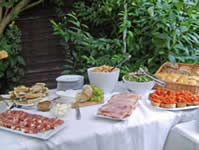 100 Churchfield Road, Acton W3 6AY
020 8993 3565
Member Comments: "I don't drink coffee but I can't resist the lattes and cappuccinos at Vanilla. Their cakes (the cheesecake is my favourite) are fab and they do great lunches - home made soups and lovely sandwiches, and breakfasts - croissants, pains au chocolat, or healthy porridge or yoghurt with fruit. There is also a good selection of fresh organic fruit and veg as well as cheeses, jams, biscuits and lots else."
Acton Park Cafe
Acton Park
Member Comments:"You could pass by this white single story building and not recognise there is a cafe there. This would be a mistake. Simple food well cooked and a very low price makes this a great place to eat - best location in Acton."
Currently only open at weekends and during school holidays
Central Cafe
Churchfield Rd
Member Comments: "Friendly staff run this clean establishment that has been in the area for years. I know some people who come from North Kensington every day for their favourite lunch. The food is copious and very reasonably priced. Anything from a fry-up with all the trimmings to meat and 2 veg. Omelette and chips is my favourite."
Opposite the Churchfield Pub and Acton Central Station
Churchfield Cafe
46, Churchfield Rd Acton W3 6EB Map
020 8932 0795
Member Comments:Difficult to get a table sometimes as its so popular with local tradesman. Its easy to see why- high energy fry-ups piled high at a fair price.
Coffee Etc
135, High Street Acton W3 6LY Map
020 8993 0113
Member Comments: Continental in feel, very popular with local office workers. Hot and cold sandwiches, soups, pasta and a variety of sweets and cakes. Another place claiming to serve the best coffee in Acton. On this point those in the know still mourn the demise of the Chestnut Tree in Market Place.
Cafe Eat
3, Roslin Road Acton W3 8DH Map
020 8993 3704
Member Comments: "The friendliest, cheapest and probably only fast food place to eat on or near the Rowley Industial Park in South Acton. A great selection and always something for vegatarians."
"Go there!"
Duet Cafe
Unit 11, The Oaks Shopping Centre W3 6RE Map
duetcafe@hotmail.com
Member Comments: All day breakfasts, dinners and freshly cut sandwiches.
Peter's Cafe
6, Warple Way Acton W3 0UE Map
020 8742 9948
Member Comments: Nice freshly cooked pastries and well prepared sandwiches. Again - claims to have the best coffee in Acton which is pushing it but its not bad.