Trustees seeks local support in new community based bid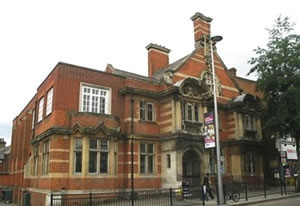 A hundred and twenty years ago the American ambassador stood on Acton High Street and opened the Old Library for the benefit of the local community.

He was alongside his friend John Passmore Edwards, the Victorian philanthropist who had it built for the people of Acton.
After nearly five years closed to the public while The Curzon Cinema group stroked its chin about what exactly to make of it, the people of Acton are bidding to make it a community asset once again.
A group of local trustees - we're looking for more - and some 20-plus specialist advisers who live within three bus stops, have come up with a commercial plan to combine a cinema, restaurant, and flexible office space out of this dormant public building.
We've applied for matched funding from the GLA's Good Growth Fund. In partnership with a sympathetic developer we hope to convince Ealing Council we're a better bet for the night-time economy and daytime community use than the problem-prone policy of merely selling to the highest bidder.
If you want to find out more and give your support then visit our Facebook page - Acton Arts Project - or the website: www.actonartsproject.com
We could use any help or expertise you have.
Doug Carnegie (trustee)

August 9th 2018