Council say 'change in circumstances' has led to termination of the deal
The plan to convert the old Acton library site into a cinema appears to be dead in the water after the Council announced that they have terminated the agreement with the Curzon Cinema group.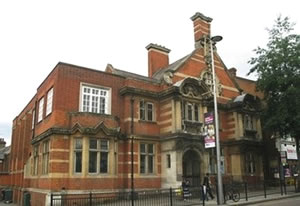 The council put out to tender the opportunity to develop the site in 2014 and rejected bids from the local community including one to develop an arts centre in favour of an arrangement with the cinema chain.
They appointed Curzon Corinthian, a subsidiary of the Curzon Group to take over the prime location on Acton High Street at the junction of Winchester Street. Their plan included a cinema, restaurant, bar and three flats on the top floor
Acton Library is a Grade II listed red-brick property with an ornate façade fronting Acton High Street (A4020). It consists of two storeys with part third storey. It is part of a set of historic civic buildings including the Town Hall, swimming baths and Magistrates' Court, which is sometimes known as the Redbrick Quarter due to their distinctive appearance.
Ealing Council's Cabinet will be asked to review plans and to consider uses for the old Acton library site next month. If cabinet approves, the council will be putting the site out to disposal.

Ealing Council leader Julian Bell said: "Despite Curzon Corinthian's circumstances changing and they being unable to proceed with the agreement, residents can be assured the council will be making certain the site will be part of the high quality regeneration in the borough. "
We are attempting to contact Curzon Group for comment.
October 24, 2017