New Queens Park to be 'catalyst for regeneration', says Club Chairman
Queens Park Rangers Football Club is set to begin a public consultation over its long-mooted move away from Loftus Road to pastures new, according to an article posted on the club's official website today (Thursday 4th September). The club has also made progress in securing the purchase of the brownfield land at Old Oak.
QPR Chairman Tony Fernandes said: "We are looking to deliver much more than just a stadium. We want to create a new destination that we propose to call 'New Queens Park'. It will serve as a catalyst for regeneration, creating thousands of new jobs and homes for local people."
Last December, QPR unveiled plans to build a 40,000 all-seater stadium to be the centre-piece for an ambitious development project around Old Oak Common which is supported by the Mayor of London and hopes to ultimately generate 55,000 jobs and 24,000 homes, across an area larger than Canary Wharf.
The club has now taken the first steps towards putting these plans into action, seeking to gauge the local response to the scheme by distributing newsletters, holding open exhibitions and setting up a website for residents and supporters to share their views.
Significantly, Queens Park Rangers also announced today that they have entered into an exclusive agreement with Network Rail and other major landowners in the Old Oak area.
Earlier today, over 50,000 newsletters were posted by QPR to homes and businesses in West London, inviting people to have a look at the initial plans and offer their opinions about what else should be considered before developing the plans further.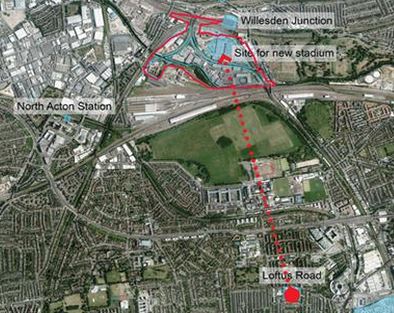 (Old Oak Common is under two miles from QPR's current ground, Loftus Road)
Mr Fernandes says, "It will be a major transport hub that will connect Old Oak to the rest of London and other major cities across the UK. Our new 40,000 seat stadium will become a focal point hosting not just football, but other entertainment and community activities for residents and visitors to enjoy.

"There are many local benefits that will arise out of the regeneration of the Old Oak area, including new homes, new jobs and a much improved local environment. These benefits will be shared widely by the surrounding communities in Hammersmith, Ealing and Brent, including large numbers of our supporters.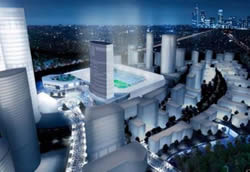 "This is very much the start of the process. We want to share our ideas and plans and in turn hear from the local community. The aim is that local residents, our fans and others with an interest in this part of London will come along and help us shape our proposals. The forthcoming public exhibitions provide the first opportunity for this, and as our plans evolve we'll hold more events."
Along with partners Stadium Capital Developments (SCD), QPR have entered into exclusivity land agreements with several of the landowners around Old Oak, including Network Rail. The club has claimed to have put together a "world class" design team with a "track record of delivering major regeneration projects".
Anthony Spencer from SCD, who is helping develop the plan for the Old Oak project along with Sir Terry Farrell, the architect famous for buildings such as the MI6 Headquarters, commented: "We envisage a new vibrant, mixed-use and high-quality development that will regenerate the area and turn this neglected but very well-connected area into a new world-class city quarter.
"We have assembled a top-class professional team to design thousands of new homes and new commercial space, including retail, studios and offices, restaurants, cinemas, a hotel and other leisure accommodation."
The club have also announced six public exhibitions at three seperate venues, to enable further participation and feedback from the public:
Loftus Road Stadium
2-8pm, Monday 15th September
2-8pm, Tuesday 16th September
Skyline Suite, Holiday Inn London West, 4 Portal Way, North Acton
4-8pm, Wednesday 17th September
4-8pm, Thursday 18th September
St Mark's Church Hall, Bathurst Gardens, Kensal Rise, NW10 5HX
12 noon–4pm, Friday 19th September
9am–1pm, Saturday 20th September
You can read QPR's full announcement here.
September 4, 2014