40,000 capacity stadium provisionally named New Queens Park
Queens Park Rangers FC has unveiled plans for a new 40,000 seater stadium as part of a major regeneration project in the Old Oak area in West London.
Queens Park Rangers Football Club and partners, Stadium Capital Developments, announced on Thursday that they have concluded a letter of collaboration with the Greater London Authority and the London Borough of Hammersmith & Fulham to "bring forward an early and very significant private sector investment into the Old Oak Common regeneration area."
The news follows Boris Johnson's recent announcement that turning Old Oak into a new world-class city quarter is to be one of his main regeneration priorities, and that a Mayoral Development Corporation is to be set up to promote it.
The plan is to develop a 40,000 capacity football stadium at the heart of the regeneration area, and for this to be the catalyst that will eventually bring about the creation of a residential and commercial area covering several hundreds of acres – larger than Canary Wharf – ultimately generating 50,000 jobs and 24,000 homes.
The scheme has the provisional title of New Queens Park.
QPR's Chairman, Tony Fernandes says: " "Loftus Road is – and always will be – a special place for the club and our supporters, but we need more than an 18,000 capacity.
"With no option of expanding here, we have to look elsewhere and we welcome the Mayor's and Hammersmith & Fulham Council's commitment to regenerate the area, which includes an option to develop a new stadium at Old Oak as a key catalyst to bring forward redevelopment, cementing our future in this part of West London.
"Not only will this give us a top quality stadium to cater for QPR's needs as the club progresses and grows over the years ahead, but we are very excited about being the driving force behind creating one of the best new urban places in the world.
"This will be the catalyst for the regeneration of a forgotten area – ultimately bringing new transport, 24,000 homes and at least 50,000 jobs.
"It will create a vibrant new destination in London, boosting local businesses, attracting new visitors and tourism and creating a thriving community."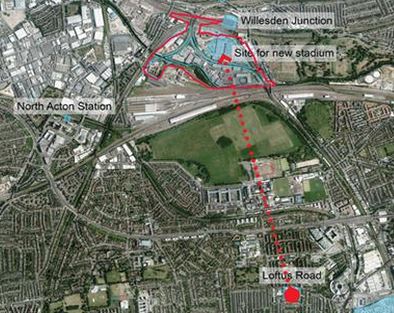 Antony Spencer, who – alongside Sir Terry Farrell – is developing the master-plan for Old Oak, says: " We envisage a new vibrant, mixed-use and high-quality entertainment and leisure development, which will turn this neglected but tremendously well-connected area into a new world-class city quarter.
" We are talking to a number of world-class architects to design iconic tall buildings akin to New York, the Far East and London's finest, as well as improving and incorporating the waterside environment of the Grand Union Canal.
" We have assembled a top-class professional team to design tens of thousands of new homes, a 350 bedroom luxury hotel and millions of square feet of entertainment and leisure focused commercial space including: retail, studios and offices, bars and clubs, restaurants, cinemas and other leisure accommodation."
You can read QPR's full announcement here.
December 13, 2013