Boating to be reintroduced, a new cafe opened and Orangery restored
Hounslow and Ealing Councils have been awarded a grant of almost £4.7m from the Heritage Lottery Fund (HLF) Parks for People and the Big Lottery Fund to radically restore Gunnersbury Park. (July 7).
Under the new funding boating will be reintroduced, the Orangery wll be restored, a cafe will be opened, and lost features such as the Horseshoe Pond will be reinstated. The Orangery was built in 1836 by Sydney Smirke who designed the British Museum Reading Room.
Visitor numbers to the park are expected to increase from 600,000 to over one million people per year once improvements are completed. The grant is part of a wider investment of £34.5million of Lottery money to 13 parks across the UK.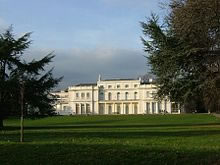 As well as the physical transformation, a major part of the 186-acre restoration project involves introducing new events, services and educational programmes. New initiatives could include free horticultural training sessions, a community orchard and planned mini-beast safaris, along with guided walks and nature trails throughout the year.
Gunnersbury Park was purchased for the nation from the Rothschild family and opened to the public in May 1926 by Neville Chamberlain, then Minister for Health. However campaigners have been calling for funding to restore the park to its former glory- over the years landscaping and maintenance had declined and it was on English Heritage's 'at risk' register.
Both councils have also submitted a bid for further funding from the HLF to enable them to restore and remodel Gunnersbury Museum to the same standard as the rest of the park. The Museum was formerly the large mansion. It opened in 1929 as a showcase for local history, costume and fine art, including some memorabilia of the Rothschilds, but it is in need of major restoration.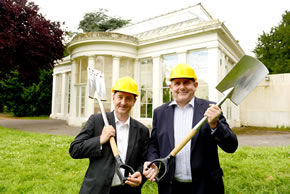 (l-r) Cllr Julian Bell and Cllr Steve Curran
The Parks for People programme uses Lottery funds to support the regeneration, conservation and increased enjoyment of public parks and cemeteries. Using money raised through the National Lottery, the Heritage Lottery Fund (HLF) aims to make a lasting difference for heritage, people and communities across the UK and has over 36,000 projects allocating more than £6billion across the UK.
Alongside restoration of important historic features, this new funding will also deliver a range of activities designed to help Gunnersbury Park become more sustainable. And it will offer three horticultural apprenticeships to Ealing and Hounslow school leavers in partnership with Capel Manor College who also share the site.
Councillor Steve Curran, Leader of Hounslow Council said: "This is wonderful news, and brings us a step closer to restoring the park to its place as a jewel of west London.
"This money will help people to really appreciate the historic landscape of the park, as well as enhancing the environment with new facilities for play, refreshment, events and recreation, for people to enjoy for years to come."
Leader of Ealing Council, Councillor Julian Bell said: "This generous award from HLF will help us make the kind of radical improvements Gunnersbury Park desperately needs to bring it back to its former glory. Both Ealing and Hounslow Council can now look forward to transforming this fine house and garden so that even more people will be able to enjoy it in the future."

This grant is part of a wider investment of £34.5million of Lottery money to 13 parks across the UK being announced today by HLF and Big Lottery Fund. This new funding follows the publication of the HLF's recent report (26 June, 2014) which revealed the UK's public parks are at serious risk of decline unless innovative new ways of funding and maintaining them are found.
Carole Souter, Chief Executive of HLF, said on behalf of HLF and the Big Lottery Fund: "Our report revealed how valued public parks are by people and communities and how essential they are to our physical and emotional well-being. That's why HLF and the Big Lottery fund have invested over £700m in parks since 1996. But the report makes clear that our parks face an uncertain future and so it's exciting to see how this new investment is going some way towards helping parks like Gunnersbury."
The Big Lottery Fund is responsible for giving out 40% of the money raised for good causes by the National Lottery. The Fund is committed to bringing real improvements to communities and the lives of people most in need and has been rolling out grants to health, education, environment and charitable causes across the UK since its inception in 2004. It has awarded close to £6bn.
July 7, 2014