Labour leadership candidate addresses a packed audience in town hall
Jeremy Corbyn, the front runner in the Labour leadership contest, addressed a meeting in Ealing Town Hall this Monday evening (17 August).
The 66-year-old left winger received loud applause and cheers from those inside the meeting room having been delayed due to the need to explain to those outside that the venue was already full such was the local interest in his appearance.
Once inside he apologised for his croaky voice, a result of a long series of public speaking engagements and spoke about issues such as the demonisation of immigrants in Calais and benefit claimants.
On the economy he said that if the Bank of England could print money to bail out the financial sector they could do the same to help fund an infrastructure and house building programme for the UK.
He said, "People have had enough of the politics of abuse and the politics of control. This is about the politics of democracy."
Not present at the meeting was the Labour leader of Ealing Council, Julian Bell, who along with 20 other local councillors published an open letter urging party members to back Liz Kendall. He has stated that a Corbyn victory would spell 'electoral disaster' for Labour and added, 'We need to go forward to 2020 not back to the 1980s'.
Corbyn does have some support in the local party hierarchy with Ealing Central and Acton MP Rupa Huq having nominated him for the leadership.
The local constituency parties have not gone for Liz Kendall with Ealing Southall nominating Andy Burnham and Ealing Central and Acton choosing Yvette Cooper. Virendra Sharma MP for Ealing Southall and Steve Pound in Ealing North nominated Yvette Cooper.
The voting for Labour leader closes on 10 September and the winner will be announced at a special conference on 12 September.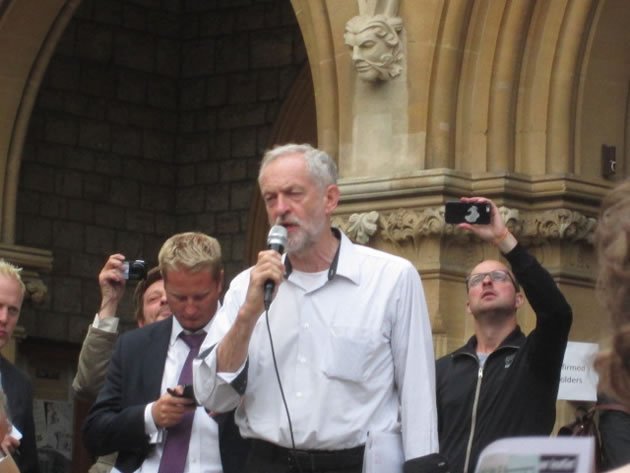 Jeremy Corbyn addresses crowd outside Ealing Town Hall. Picture: Tom Doran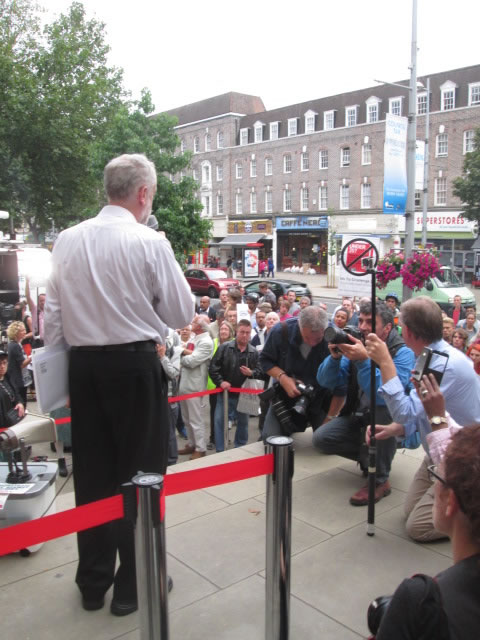 Large numbers congregate outside the Town Hall. Picture: Tom Doran
August 19, 2015