Renewed interest in family homes pushes up average value in W3
Latest figures show property prices for houses in Acton are at an all time high.
From April to June the average price for all sales in the W3 area was £454,977 - up 24.9% on the last year - partly explained by more detached houses exchanging hands in this quarter.
Volumes are slightly down mainly due to a fall in the number of flats selling but the number of houses being bought is on the increase helping push up the average.
There are single digit rises over the year if you just look at terraced house or flats - so it's the change in the mix of sales towards higher priced properties which is driving up the headline number.
Flat sales are not at an all-time high but are still going for over £300,000.
Faisal Yousuf from citydeal estates says the market is buoyant:
'' In spite of the higher prices, buyer interest shows no sign of dwindling and we continue to sign new clients at a record pace; the lower end of the market (sub £600,000) is a huge focus of this attention.
''There is fierce competition for the best properties with a substantial demand for buy to let properties coming from our overseas clients.''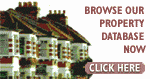 The June data from Land Registry's House Price Index shows that London saw a sharp rise in prices during the month up by 3.1% compared with May.
It remains the best performing property market in England and Wales rising by 6.9% over the last year to £383,930.
For the country as a whole prices only rose by 0.8% over the year which takes the average property value in England and Wales to £162,621.
The most up-to-date figures available show that during April 013, the number of completed house sales in England and Wales increased by 12 per cent to 48,367 compared with 43,252 in April 2012.
The number of properties sold in England and Wales for over £1 million in April 2013 increased by 45 per cent to 703 from 484 in April 2012.
The West Midlands was the only region to see an increase (8 per cent) in repossession sales between April 2012 and April 2013. The region with the greatest fall in the number of repossession sales was London where repossessions dropped by 37 per cent (April 2013 compared with April 2012).
In a forthcoming edition of the ActonW3.com newsletter there will be a complete listing of recent property sales in the area. To register to receive it click here.
Acton Property Prices - April - June 2013
Area
Detached
Sales
Semi-Det
Sales
Terraced
Sales
Flat/
Mais
Sales
Total Ave
Total Sales
W3 0
0
0
517681
8
531500
6
465833
6
506273
20
W3 6
740000
1
824111
9
602400
10
259270
25
459172
45
W3 7
1317500
2
825042
6
515825
6
320452
29
464495
43
W3 8
0
0
450000
1
580790
5
310994
36
346423
42
W3 9
1300000
1
906421
7
612000
1
301625
8
627644
17
Total
1168750
4
751731
31
565139
28
309410
104
454977
167
Change in Quarter
-
-
14.4%
24.0%
1.9%
-3.4%
4.2%
-18.8%
17.4%
-8.2%
Change in year
-
-
28.1%
24.0%
5.3%
0.0%
9.3%
-18.8%
24.9%
-7.7%
Change in three years
-
-
49.9%
14.8%
30.0%
12.0%
22.9%
35.1%
34.0%
29.5%
Change in five years
-
-
31.6%
106.7%
12.9%
154.5%
12.8%
76.3%
27.8%
96.5%
Change in ten years
-
-
128.1%
-11.4%
70.3%
-31.7%
64.7%
-3.7%
84.3%
-9.2%
Acton Property Prices - January to March 2013

Area

Semi-Det

Sales

Terraced

Sales

Flat/Mais

Sales

Total Averages

Total Sales

W3 0

476237

4

513333

6

414222

11

454352

21

W3 6

823750

4

540730

13

266095

21

418750

38

W3 7

532111

9

706500

4

289714

51

349850

64

W3 8

0

0

523833

6

297915

36

330189

42

W3 9

805650

8

0

0

262333

9

518012

17

Total

657366

25

554431

29

296920

128

387464

182

Change in Quarter

-1.6%

-24.2%

0.8%

3.6%

-5.2%

8.5%

-6.8%

1.7%

Change in year

9.0%

47.1%

18.3%

11.5%

13.0%

75.3%

8.0%

56.9%

Change in three years

15.5%

0.0%

39.4%

20.8%

23.6%

42.2%

18.6%

30.9%

Change in five years

11.0%

-7.4%

19.9%

31.8%

6.6%

39.1%

5.5%

29.1%

Change in ten years

80.5%

-30.6%

81.3%

-21.6%

69.0%

40.7%

57.2%

11.0%
September 25, 2013