Houses continue to outperform flats in W3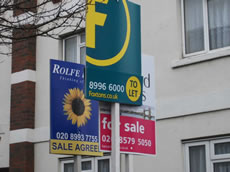 The average price of a property sold in W3 since the beginning of June was £342,639.
This is in line with figures seen earlier in the year. A more detailed look at the numbers suggests that flat prices have remained fairly static with houses accounting for much of the average rise compared to last year which is not a big surprise bearing in mind the large stocks of flats available in new developments all over W3, with more to come.
Volumes continue to be ahead of levels seen in the same period in 2009.
The July data from Land Registry's flagship House Price Index shows a national annual price increase of 6.7% which takes the average property value in England and Wales to £166,798. The monthly change from June to July is an increase of 0.4%.
The region with the highest annual price change is London with an increase of 12.1%.
Looking ahead some analysts are not optimistic that the current price strength will be maintained.
Miles Shipside, commercial director of Rightmove, comments, "The number of new mortgages being approved each month is less than half the number of new sellers, with the imbalance being exacerbated by the increase of nearly 50% in the number of properties coming to market compared to a year ago. More aggressive pricing is now the order of the day, which means that conditions are ripe for a strong buyers' market in the second half of 2010. This is likely to see the average price gains of 7% for the first half of the year wiped out by year-end, in line with Rightmove's original forecast for the year of no net change in prices".
The latest reported sales are given in the table below.
A regular market review of the local property scene appears on the site. You can click here for the latest update and analysis.
If your agent is claiming to be marketing your property effectively and it doesn't appear on ActonW3.com it may be time to choose a new agent.
Properties Sold in Acton W3 - June 2010
| | | |
| --- | --- | --- |
| Address | Price (£) | Date |
| Bromyard House, Flat 114, Bromyard Avenue, W3 7BF | 218,000 | 30/06/2010 |
| Victoria Court, Flat 27, Kingsbridge Avenue, W3 9AH | 249,000 | 29/06/2010 |
| 29, Maple Avenue, W3 7LE | 138,000 | 28/06/2010 |
| 43f, Cumberland Park, W3 6SX | 250,000 | 25/06/2010 |
| 86, Beech Avenue, W3 7LF | 137,000 | 25/06/2010 |
| 60, Julian Avenue, W3 9JF | 575,000 | 25/06/2010 |
| Bromyard House, Flat 487, Bromyard Avenue, W3 7BY | 181,000 | 25/06/2010 |
| Victoria Court, Flat 9, Kingsbridge Avenue, W3 9AH | 215,000 | 24/06/2010 |
| 17b, Mansell Road, W3 7QH | 230,000 | 23/06/2010 |
| 106, Long Drive, W3 7PH | 396,000 | 22/06/2010 |
| Trentham Court, Flat 48, Victoria Road, W3 6AD | 250,000 | 21/06/2010 |
| 12, Grove Road, W3 6AW | 425,000 | 18/06/2010 |
| 28 - 30, Flat 2, Churchfield Road, W3 6EB | 225,000 | 18/06/2010 |
| 1e, Friars Place Lane, W3 7AG | 186,250 | 18/06/2010 |
| 7, Valetta Road, W3 7TQ | 465,000 | 18/06/2010 |
| 52, Julian Avenue, W3 9JF | 595,000 | 18/06/2010 |
| 28, Avenue Road, W3 8NS | 180,000 | 18/06/2010 |
| 356, Acton Lane, W3 8PE | 296,000 | 17/06/2010 |
| Harlech Tower, Flat 67, Park Road East, W3 8TZ | 150,000 | 17/06/2010 |
| 294, High Street, W3 9BJ | 550,000 | 16/06/2010 |
| 88, First Floor, High Street, W3 6QX | 185,000 | 15/06/2010 |
| 11, Perry Avnue, W3 6YQ | 180,000 | 14/06/2010 |
| 69, Princes Gardens, W3 0LR | 283,333 | 11/06/2010 |
| 123, Noel Road, W3 0JQ | 400,000 | 11/06/2010 |
| Edendale, Flat 5, Creswick Road, W3 9HB | 242,500 | 11/06/2010 |
| 68, Bollo Bridge Road, W3 8AU | 330,000 | 11/06/2010 |
| 23, Cloister Road, W3 0DE | 366,000 | 10/06/2010 |
| 1, Balfour Road, W3 0DQ | 450,000 | 10/06/2010 |
| Copperfield Court, Flat 13, Gunnersbury Gardens, W3 9AF | 234,950 | 10/06/2010 |
| Victoria Court, Flat 3, Kingsbridge Avenue, W3 9AH | 273,000 | 10/06/2010 |
| 11, Godolphin Place, W3 7NB | 212,000 | 10/06/2010 |
| 23, Cowper Road, W3 6PZ | 475,000 | 09/06/2010 |
| 80, Horn Lane, W3 6NT | 400,000 | 09/06/2010 |
| 20, Birkbeck Avenue, W3 6HX | 445,000 | 08/06/2010 |
| 125, Princes Gardens, W3 0LR | 532,000 | 04/06/2010 |
| Anthony Court, Flat 34, Larden Road, W3 7ST | 350,000 | 04/06/2010 |
| 18b, Heathfield Road, W3 8EL | 260,000 | 04/06/2010 |
| 20, Flat 3, Rosemont Road, W3 9LR | 140,000 | 02/06/2010 |
| 68, Noel Road, W3 0JT | 335,000 | 01/06/2010 |
| Victoria Court, Flat 12, Kingsbridge Avenue, W3 9AH | 228,000 | 01/06/2010 |
Previous Property Sales in Acton
October 12, 2010