Average boosted by Twyford Avenue sale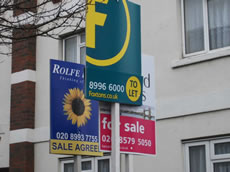 The average price of a property sold in the W3 area during May 2010 was £347,849. This suggests that the firm trend in home values seen so far this year has continued.
The average was boosted by the sale of a house in Twyford Avenue for £1,480,000 which was the tenth most expensive residential property sold in Acton.
The average house price for England and Wales in May was £165,314, down by 0.2% from the previous month and up by 8.2% compared with the previous year, and the average house price for London was £338,708, up by 14.2% compared with the same time last year.
The latest reported sales are given in the table below.
A regular market review of the local property scene appears on the site. You can click here for the latest update and analysis.
If your agent is claiming to be marketing your property effectively and it doesn't appear on ActonW3.com it may be time to choose a new agent.
Properties Sold in Acton W3 - May 2010
| | | |
| --- | --- | --- |
| Address | Price (£) | Date |
| 38, Hillcrest Road, W3 9RY | 585,000 | 28/05/2010 |
| 5, Summerlands Avenue, W3 6EN | 455,500 | 28/05/2010 |
| 15, Alfred Road, W3 6LH | 271,500 | 28/05/2010 |
| 3, Flat C, Acacia Road, W3 6HE | 192,000 | 28/05/2010 |
| Victoria Court, Flat 11, Kingsbridge Avenue, W3 9AH | 224,750 | 28/05/2010 |
| Anthony Court, Flat 19, Larden Road, W3 7DY | 370,000 | 28/05/2010 |
| 209, Princes Gardens, W3 0LT | 499,950 | 27/05/2010 |
| 7a, Upper Maisonette, Highlands Avenue, W3 6ES | 355,000 | 27/05/2010 |
| Victoria Court, Flat 23, Kingsbridge Avenue, W3 9AH | 228,000 | 27/05/2010 |
| Trentham Court, Flat 18, Victoria Road, W3 6AD | 240,000 | 26/05/2010 |
| 46, Park Drive, W3 8NA | 385,000 | 26/05/2010 |
| Victoria Court, Flat 10, Kingsbridge Avenue, W3 9AH | 210,000 | 24/05/2010 |
| Block M3, Unit 2, Larden Road, W3 7RP | 315,000 | 21/05/2010 |
| Bromyard House, Flat 221, Bromyard Avenue, W3 7BN | 403,000 | 21/05/2010 |
| 10, Godolphin Place, W3 7NB | 180,000 | 21/05/2010 |
| Trentham Court, Flat 167, Victoria Road, W3 6BF | 250,000 | 20/05/2010 |
| 140, Old Oak Common Lane, W3 7DT | 274,000 | 19/05/2010 |
| Springfield Court, Flat 2, Lynton Road, W3 9EA | 217,500 | 19/05/2010 |
| Ancroft House, 28, Flat 1, Horn Lane, W3 6QY | 184,500 | 18/05/2010 |
| 2, Manor Court, W3 8JX | 250,000 | 18/05/2010 |
| 13, Highlands Avenue, W3 6ES | 367,500 | 14/05/2010 |
| Fife Court, Flat 11, Links Road, W3 0EL | 318,500 | 14/05/2010 |
| Ebbett Court, Flat 123, Victoria Road, W3 6BX | 202,000 | 14/05/2010 |
| Woodley House, Flat 4, Shaa Road, W3 7LN | 283,000 | 14/05/2010 |
| 10, Second Avenue, W3 7RX | 625,000 | 14/05/2010 |
| 1, Newton Avenue, W3 8AJ | 568,000 | 14/05/2010 |
| Jerome Towers, 206, Osborne Road, W3 8SP | 145,000 | 14/05/2010 |
| Victoria Court, Flat 20, Kingsbridge Avenue, W3 9AH | 288,000 | 13/05/2010 |
| 177, Flat 4, The Vale, W3 7RD | 96,000 | 10/05/2010 |
| 5, Birkbeck Mews, W3 6HT | 245,000 | 07/05/2010 |
| Vandervell Court, Flat 54, Larden Road, W3 7EU | 380,000 | 07/05/2010 |
| 20, Highfield Road, W3 0AL | 390,000 | 06/05/2010 |
| 99, Twyford Avenue, W3 9QG | 1,480,000 | 05/05/2010 |
Previous Property Sales in Acton
September 14, 2010