Believed to be same group who earlier occupied Orion Park off Northfield Avenue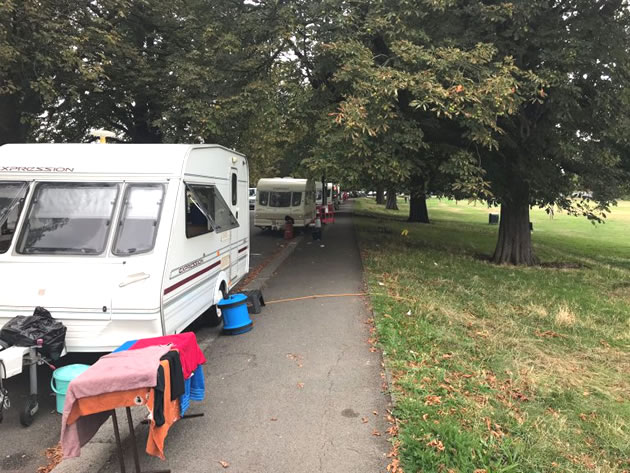 Picture: taken by local residents and published on Cllr Dabrowska's blog
A traveller encampment has been set up on Ealing Common along the extension of Warwick Road.
Residents believe this is the same group who have camped in the area before and some of the vehicles have recently been moved on from Orion Park off Northfield Avenue where the site was left strewn with fly-tipped waste.
Council officers attended this Tuesday morning (21 August) and returned to the site in the afternoon to formally serve section 77 notice to vacate by 3pm Wednesday. If the travellers fail to depart an eviction order will be obtained from the Magistrates' Court.
The Council say that all relevant welfare checks and notices have been issued and the group is expected to move on shortly.
It is understood that this may be more difficult than on previous occasions as the vehicles pulling the caravans have been unhooked and driven off. As the caravans don't have a V5C document it is not easy to identify the legal owner. This loophole has already been raised by the Secretary of State by local Councillor Joanna Dabrowska earlier this year. She has suggested that caravans should need to be registered and have a legal owner.
Cllr Dabrowska is urging residents not to fuel the demand for travellers to encamp in the borough by not paying them (even an advance) for any services such as waste clearance, roofing services, laying driveways, etc. She say any waste collected is likely to be dumped on the site they are occupying or in other public places. Anyone allowing waste to be disposed of by unlicensed operators could receive a large fine if it is traced back to them.
Cllr Dabrowska said, "Please don't encourage the travellers by accepting their offer of clearing your waste. It is extremely likely that the travellers are not licensed and you (as the owner of the waste) can receive a hefty fine. Ultimately, the taxpayer pays for the clean up through even higher Council Tax".
She has suggested that the Council seeks a borough-wide injunction against traveller encampments but says that Ealing Council don't want to pursue this idea.
A Council spokesperson said, "A borough-wide injunction is not a sustainable solution. All incursions will have individual issues attached to them, which is why we have a statutory duty to carry out welfare checks before issuing notices. The council's community safety and environment teams work together with the police to seek injunctions against those that are responsible for issues such as fly-tipping and are gathering evidence for use in civil and criminal actions against those individuals."
August 22, 2018