Notting Hill Housing seek to remove squatters from land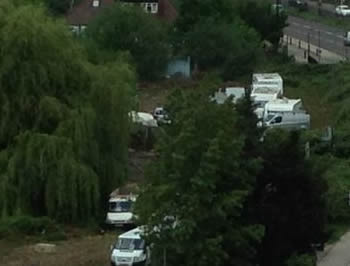 (Pic courtesy WARA via twitter)
Legal action is being taken to remove travellers who have parked up on land along the A40 on Western Avernue.
The sites owned by Notting Hill Housing are named as Sites 2 & 3 Bound by Allan Way, Court Way and Parkview and Site 12 Site 12 – Bound by Foster Road and Glendun Road.
The housing association say in the past few weeks, squatters gained illegal access and have set up camp,
Local residents have been sent letters saying that as legal owners of all three sites, Notting Hill Housing has begun legal proceedings to remove the squatters. It's thought the process is likely to take between four and 12 weeks for sites 2 & 3 and two to three weeks for Site 12.
Notting Hill says once they have taken back control of the sites they will ensure a clean-up is undertaken if necessary and security is upgraded to prevent squatters returning.
Further information when available will be found here
26th May 2016