Angela Jullings and Ken White make it a local event
Putting vexing issues such as fly-tipping and messy neighbours aside, Angela Jullings and Ken White tied the knot in Acton recently.
Angela is a familiar name to readers of the ActonW3.com Forum. With her (formerly partner), now husband Ken White, she has tirelessly campaigned over the years to clean up Acton's streets. Ken will be familiar to many in Acton Central as he ran as an Independent candidate during the last local election.
Angela told us: "Around December 16th we decided to get married. We originally planned a very small wedding. We thought we would just get married with our baby daughter Lola (1 year old) and our two mums. Then, as regular church goers, we thought it would be really nice to get married in St. Mary's Church. With all that space available to us, we decided that it would be nice to invite more people. When Vanilla agreed to do the party, a small wedding for 5 people suddenly escalated and before we knew it we were planning an event for 55."
Angela was consulting Ken throughout the proceedings - though she admits the arrangements were "all down to me." As Christmas approached, she decided to send out the invitations at the same time as Christmas cards. "I had been talking all along about getting married 'next year'. It was a bit of a shock for Ken when I presented him with the invitations. He had thought we were talking about January 2010! Once he actually twigged that we were talking about 2009, it all became a bit more real."
Angela managed to find her dress with only two weeks to go before the wedding. "I tried to get the dress locally, but couldn't quite find the right one in the right colour and the right size. But most of my jewellery for the big day plus all the presents for page boys and girls and their presents came from Silver Cloud on Churchfield Road. They actually could have organised a dress for me, too. They were great.
"Sam's Nails were great, too. They did my nails and toenails and I looked and felt perfectly groomed.
"Flowers were by Heart and Soul and they were brilliant. And Anthony Bell - the hairdressers - could not have been more helpful. They lent us some champagne flutes at the last minute.
"Our party in Vanilla could not have been better. They were fantastic. We were given soup on arrival and even managed to dance a bit."
During the ceremony, Lola apparently did her best to disrupt the proceedings. A wedding guest told us that Ken had turned to the congregation during the ceremony and made everyone laugh by pointing at Lola and saying: "This is why you're supposed to get married first THEN have the baby!"
Judging by the lovely photographs here, everyone had a great day.
ActonW3.com would like to wish Ken and Angela all the best for a happy, healthy and litter-free future together.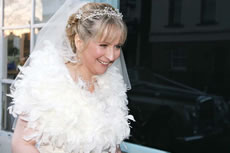 February 10, 2009