One of four schemes in the borough that campaigners say are illegal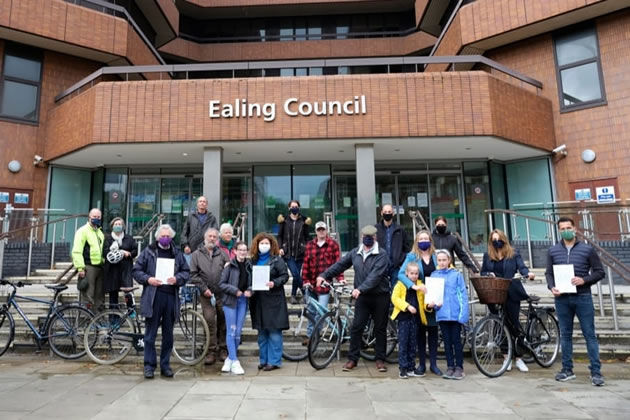 Anti-LTN campaigners present document to council. Picture: Lorna O'Driscoll/Facebook
Residents opposed to Low Traffic Neighbourhood Schemes (LTNs) in Ealing have filed an application for a judicial review of the Acton Central Scheme (LTN 25). (Note: we originally incorrectly report that the review was requested for the East Acton Golf Links scheme).
It is one of four LTNs in the borough they are challenging.
The document was presented to the High Court on Tuesday 29 September and was validated on 1 October. A copy was then delivered electronically to Ealing Council on 2 October and in hard copy on 3 October 2020.
The application claims that Ealing Council has failed to meet its obligations under Section 122 of the Road Traffic Act 1984 and its public sector Equality Duty under the Equality Act 2010.
This application has been submitted in the name of Peter Mason, the The Coldershaw and Midhurst Traffic Action Group (CAMTAG Co-ordinator), and Tracy Scott, representing Ealing Residents Against Low Traffic Neighbourhoods.
Ealing Council has approximately three weeks in which to respond to these JR applications.
Lorna O'Driscoll of the Ealing Residents Against Low Traffic Neighbourhoods said, "We believe the Council has acted illegally and the procedure they have and continue to follow is unfair. The Council now have approximately 3 weeks to respond to us. We hope the Council, having admitted it did not follow the correct procedure, reconsiders its position and rather than waste public money fighting residents, reverses the LTNs and engages in a democratic discussion about what the Ealing public want."
The other applications relate to the LTNs in West Ealing (LTN 21), Mattock Lane, Loveday Road and East Acton.
An Ealing Council spokesperson said, "We can confirm the council has received legal challenges. We will be seeking legal advice and considering our response. As legal action is pending we are unable to comment further."
The schemes are being implemented by the use of an Experimental Traffic Order (ETO). The councils says that ETOs allow them to implement schemes without advertising them. There will be a 6 month trial period of the restrictions after which the impact of the changes will be reviewed.
Documents giving more detailed particulars of each Order are available by e-mail from trafficnotices@ealing.gov.uk.
If you want to make a comment on any scheme the council officers responsible can be reached on COVIDtransport@ealing.gov.uk and the senior councillor responsible is Cllr Mik Sabiers SabiersM@ealing.gov.uk.


October 5, 2020