Scheme aims to reduce rat running in the area north of Churchfield Road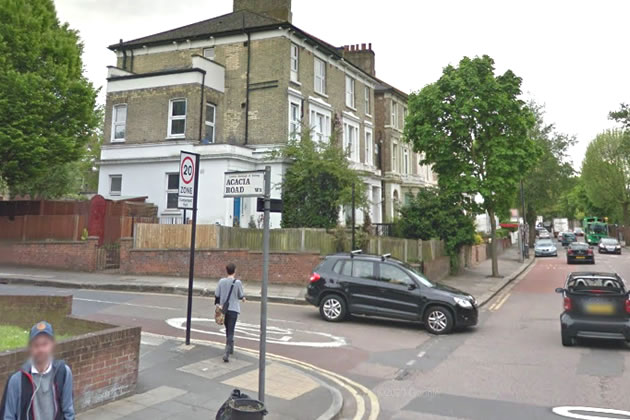 Cut through to Horn Lane from Acacia Road will close. Picture: Google Streetview
Ealing Council have released details of their plans for a Low Traffic Neighbourhood Scheme in Acton.
Three road closures are to be put in place to restrict access to motor vehicles with implementation expected in September.
Acacia Road is to be blocked by the junction with Cumberland Road which means that the direct route from the area north of Churchfield Road to Horn Lane will no longer be available.
Goldsmith Road will be blocked at the junction with Goldsmith Avenue and St Dunstans Avenue and Crane Avenue will be blocked near the junction with Baldwyn Gardens.
The plans have had a mixed reception so far. One resident contacted us to say, "I'm delighted by the proposal. Rat running in the area was on the increase and was getting to the point at which it was becoming intolerable. Some people might have to drive a bit further but at least now it won't be down my road."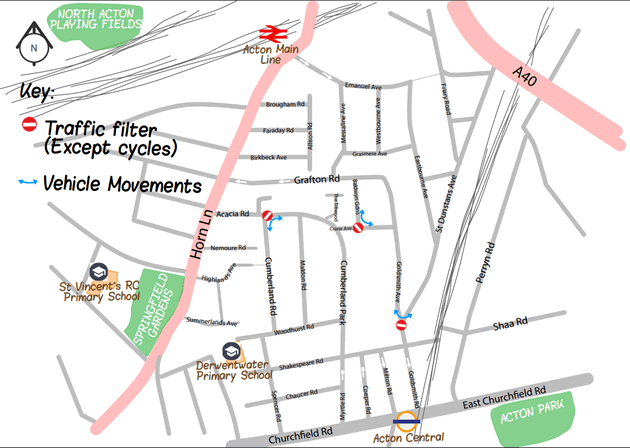 Map of Acton Low Traffic Neighbourhood Scheme
However, there were several residents who expressed unhappiness about the scheme. One said, "It takes me currently three minutes to get to Horn Lane, now it will probably take 15 to get to the same point. What I don't understand is the change will mean that I will be required to drive further along residential roads than I did before. I'm a key worker and walking, cycling and public transport are not options for me."
The scheme is being implemented by the use of an Experimental Traffic Order (ETO). ETOs allow Ealing Council to implement schemes without advertising them. There will be a 6 month trial period of the restrictions after which the impact of the changes will be reviewed.
Documents giving more detailed particulars of each Order are available by e-mail from trafficnotices@ealing.gov.uk.
If you want to make a comment on any scheme the council officers responsible can be reached on COVIDtransport@ealing.gov.uk and the senior councillor responsible is Cllr Mik Sabiers SabiersM@ealing.gov.uk.


August 10, 2020