Lebanese crew responding to incident were among the fatalities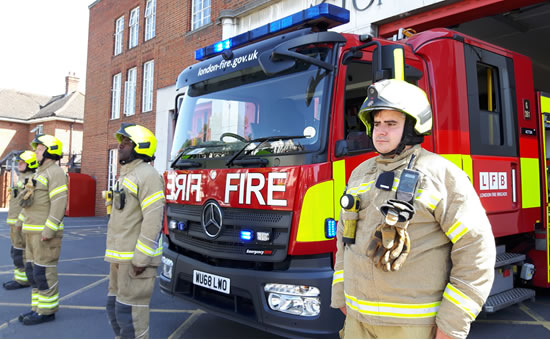 Acton firefighters join nationwide minute's silence for Beirut explosion victims
Beirut was at one with Acton on Friday lunchtime with the crew at the local fire station holding a minute's silence in solidarity with the victims of the devastation seen in Lebanon's capital earlier the same week.
As part of a national initiative on 7 August, firefighter crews across west London paid their respects to those affected by the explosion in Beirut which is thought to have killed more than 200.
Firefighters stood outside their stations at midday to remember those who lost their lives in the incident on 4 August, particularly a crew of firefighters who responded to the initial fire.
Ealing Central and Acton MP Rupa Huq stood alongside the firefighters on Gunnersbury Lane for the minute's silence, which she described as "poignant and heartfelt."
She said, "My thoughts and prayers are with everyone who has lost a loved one or been injured by the devastating explosion in Beirut. I was honoured to stand shoulder to shoulder with a part of the firefighter family here in Acton as they honoured the Beirut crew who died in the line of duty.
"Firefighters are the unsung heroes of our communities. As we saw in Lebanon, firefighters put their lives on the line each time they receive a callout. Some of the firefighters here at Acton were called out to Grenfell Tower on that fateful day three years ago and tackled the recent Park Royal blaze. They have continued to provide their vital service throughout the Covid-19 pandemic.
"The London Fire Brigade [LFB] is always there for us, so we must be there for them as they face the prospect of a further £25m in cuts over the next two years. That's why I'm calling on the Prime Minister, who oversaw the largest cuts in history to the LFB as London Mayor, to step in and make sure the fire service is funded, so it can deal with large-scale incidents such as that seen in Beirut last week."
Kim Jerray-Silver, who has been firefighting in Acton and Kensington for 16 years, said the Acton crew was moved to take part in the minute's silence after seeing the devastating scenes from Lebanon.
She said, "The firefighter family is international, so we mourn the colleagues we sadly lost in Beirut. They died doing what we do day in, day out as firefighters: helping others in their hour of need. Our thoughts are with the families and friends of everyone who died in the tragic incident."
More than 300,000 people have been left homeless as a result of the explosion. Lebanese Prime Minister Hassan Diab has announced the resignation of his government amid growing public anger.
You can donate to the British Red Cross's Beirut Emergency Appeal here.
August 11, 2020