Santander announces planned closure of local branch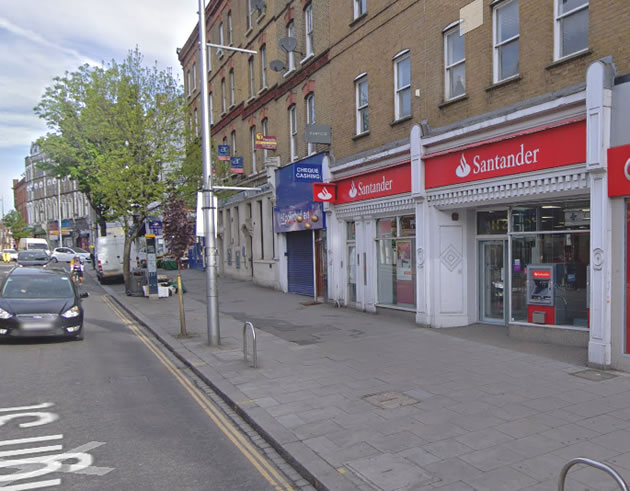 Santander Acton High Street. Picture: Google Streetview
The number of banks on Acton High Street looks set to shrink further following an announcement by Santander that they plan to close their local branch.
They plan to vacate their premises at 154-156 High Street on 27 June.
The decision comes on top of the closure of the HSBC branch on the High Street in 2016 and the shutting of Natwest's local branch last year. This leaves people who still wish to bank personally rather than online in the area with limited options. The number of ATMs on the High Street providing free cash withdrawals will be reduced further with the one at the branch of the TSB still operating.
It is one of 140 closures announced by the group as part of a major rationalisation of their UK network which will leave them with 614 branches across the country. The number of transactions carried out via Santander branches has fallen by 23% over the past three years, while transactions via digital channels have grown by 99% over the same period.
Santander customers can also use Post Office branches for banking but this has limited benefit for Acton residents due to the recent closure of the local Post Office.
Santander say they have consulted its trade unions on the proposed changes and will seek to find alternative roles for staff affected wherever possible. The company expects to be able to redeploy around a third.
Rupa Huq, the MP for Ealing Central and Acton said, "Very sad to hear that Santander will go from Acton High street being on the lastest closure list. We've already lost Natwest and HSBC in recent times contrbuting to the High Street looking more and more like a ghost-town then the Post Office which had one of the highest footfalls of any locally went at the end of last year. The CEO wrote to me saying she had not found an alternative permises after the lease of the Crown Street site lease was up."
Access to Banking Standard, which was introduced in May 2017 requires banks considering branch closures do so responsibly and with consideration of the impact on customers and local communities. For each individual case, they must undertake a comprehensive review to understand the potential impact for customers, and the alternative options available to bank locally.
Susan Allen, Head of Retail and Business Banking, said, "The way our customers are choosing to bank with us has changed dramatically in recent years, with more and more customers using online and mobile channels. As a result, we have had to take some very difficult decisions over our less visited branches, and those where we have other branches in close proximity.
"We will support customers of closing branches to find alternative ways to bank with us that best suit their individual needs. We are also working alongside our unions to support colleagues through these changes and to find alternative roles for those impacted wherever possible."

January 23, 2019