Major disruption after suspicious device found in nearby building site
Westfield Shopping Centre in Shepherd's Bush was evacuated today after the discovery of what was thought to be an unexploded World War Two shell at a nearby building site.
Thousands of shoppers and local office workers were told to leave as a precaution while a police operation was put into place.
The suspicious device was discovered on the Westfield Two site in Ariel Way near the shopping centre, just before 11 a.m. today.
Police and the London Fire Brigade were called after the suspect device, said to be about 13.5 inches long and six inches wide, was discovered. Reports later suggested it was actually a shell casing and therefore posed no danger.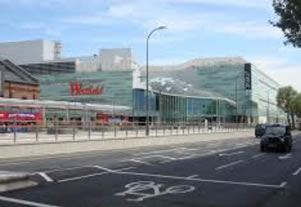 The two local tube stations at Wood Lane and White City and were also closed and nearby offices evacuated as a 400-metre exclusion zone was set up. Roads were also cordoned off and motorists advised to avoid the area.
An operation to remove the device was immediately put into place.
The area is currently under a £ 1 billion development of shops, homes and a new hotel, following the departure of the BBC from the area.
The incident was resolved shortly after 1 pm with Hammersmith & Fulham Police tweeting; "Situation has been resolved, all evacuations and closures are removed. Congestion expected while area returns to normal".

July 8, 2015