Teen star to sing new songs to fans after switching on Christmas lights
Global teen superstar Justin Bieber will switch on the Christmas lights at Westfield , Shepherd's Bush this year. The 17-year old Canadian, who has sold over 11 million records worldwide, will arrive in style on Monday, November 7th, to appear on stage at The Atrium at 5 p.m.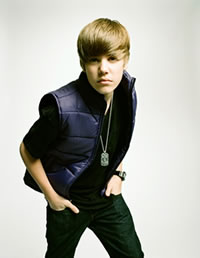 After the count-down and the official switching on ceremony Bieber will sing four of his hit songs live, including his new song 'Mistletoe' . His latest album ' Under The Mistletoe' is released next Monday, October 31st. The organisers expect up to 10,000 fans to come to the centre to see their hero, who is famous for his clean-cut image.
One hundred lucky Bieber fans will win a prize to meet him backstage- for a chance to win a wristband to meet Justin in person, go online at uk.westfield.com/london.
Following that, he will be whisked away to perform the switching-on ceremony at Westfield, Stratford for 7.45 p.m.
Last year singing superstar Rihanna performed the Christmas lights switch-on at Westfield .
October 25, 2011