Popular summer event returns
Information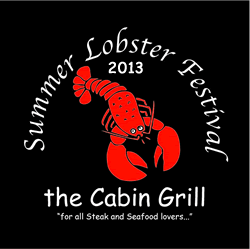 Participate
Summer at the Cabin brings out the Lobster in us! Feast yourself on seven fantastic Lobster dishes throughout August. Our Lobsters are deliciously fresh, try them steamed, grilled or Thermidor style but don't forget to try our classic favourite, the Lobster linguini with tiger prawns.
Also here for summer is our £13.50 two course Early Diner Offer between 5pm-6.30pm. *
White Lobster 650g
Steamed or Char Grilled, béarnaise sauce, served with a choice of side £20.95
Lobster Thermidor 650g
Steamed lobster, tail meat tossed with béchamel sauce then topped with Parmesan and then toasted under grill, served with a choice of side £22.95

The Lobster Roll
Chunky lobster pieces, mixed with avocado and seasoned mayoserved in a toasted br ioche roll with choice of side £18.50
Lobster Linguini with Prawns
Half lobster chargrilled and tossed with tiger prawns, fresh chilli, garlic, white wine, light cream sauce and parsley 20.90
The Large Lobster - 1kg plus
Served steamed, chargrilled or thermidor, £ Market Price (Please ask for availability)

Chilled Lobster Salad
Steamed lobster tossed with green salad, mango & avocado salsa 17.95
Seafood Feast
Char grilled lobster, mussels, prawns, crab claws, new potatoes and grilled corn tossed in a garlic sauce 26.90
*Early diner offer does not include lobster dishes.
Advertising Feature
August 1, 2013