As she meets children from Southfield Primary at sports event
Related links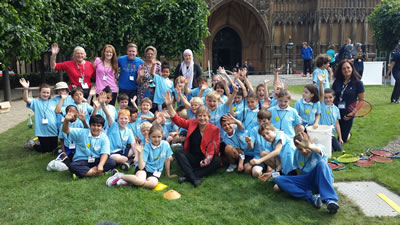 With Wimbledon up and running schoolchildren all over the country are getting enthusiastic about tennis.
Ealing Angie Bray MP met children from Southfield Primary School who came to play some tennis in New Palace Yard outside the Palace of Westminster, right by Big Ben.
The day was part of a schools tennis programme run by the Tennis Foundation and the Lawn Tennis Association.
After demonstrating her serve, Angie said; 'I'm a big tennis fan and today has been a real success. It's so important to give young people the chance to try different sports and certainly the children today seemed to be loving the tennis. I wish the LTA every success with this programme.'
The event was part of a programme of activity to promote tennis as a sport for all ages and abilities, at a time when it takes centre stage for the British public during The Championships at Wimbledon.
Hundreds of open days are taking place throughout the country as part of the Great British Tennis weekends. Over the 28th – 29th June and the 19th – 20th July, tennis venues in your area will be offering free tennis coaching and sessions for people of all ages and abilities. You can visit clubhouse.lta.org.uk/opendays to find out more.

June 24, 2014