MP Rupa Huq says the people of Ealing and Chiswick deserve better from government
Related Links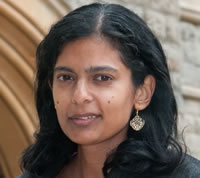 Participate
Comment on this story on the forum
The people of Ealing, Acton and Chiswick "deserve better" than to have their local police force "decimated" by cutbacks, the local MP for Ealing/Acton Rupa Huq has said in the House of Commons.
Speaking in the debate (on the government Spending Review) she said that in her constituency police morale was low and there was a fear that Ealing borough would lose between 25% and 44% of its police officers,( between 170 and 299 officers) depending on how the cuts went.
Since May 2010, the Met has seen £600 million slashed from its budget, resulting in 190 fewer police officers and PCSOs in Ealing.
"I have been to Ealing and Acton police stations in recent weeks, where I have spoken to our chief superintendent and officers at every level. People are seriously worried. They talk about devastation and a lack of morale. Just like the iconic Scotland Yard, both those police stations will go and the officers will be relocated to Brent. Everyone was saying, "God forbid if anything like the August 2011 riots were to hit Ealing again."
The overall number of officers in the Met police have already fallen from 33,367 in March 2010 to 31,November 12, 201500 million of cuts, would amount to between 5,000 and 8,000 officers.
She said the human contact was vital for local communities. "The contact that means officers know the names of people on the streets is what we value about our police force, and it is endangered by the Government's actions. The police in those police stations told me that the thin blue line is getting ever thinner and that precious human resources are being stretched to breaking point."
She pointed out that Epping, the other side of town to her constituency, had a Remembrance Day parade which had been held every year since 1919, cancelled because there were not enough police to marshal and cordon off the areas for the parade.
"In New York, the population is decreasing but police numbers are being increased. It is odd that the opposite is happening in London—it does not make sense. We are in the nation's capital. Hon. Members see on the annunciator screens in our offices that the threat level is severe. How will slashing our police force to ribbons help? Many hon. Members have said that the nature and scope of policing have changed and that we have new crimes."

November 5, 2015