Staying at the Wiesenhof Hotel in Pertisau
Related Links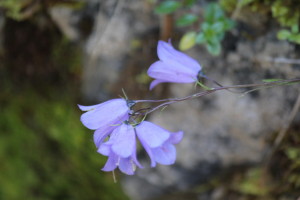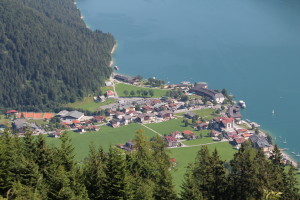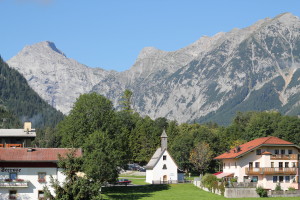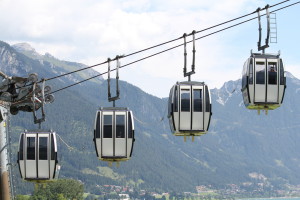 Participate
Comment on this story on the forum
Austria, in the summertime, might not be somewhere you would naturally think of visiting but if I were you I'd think again. It's absolutely beautiful.
We flew from Gatwick to Munich with Easyjet as this was the cheapest route, (although Innsbruck is the closest airport to our final destination). It took just over 90 minutes in the air - with a transfer time of just over an hour and a half.
Pertisau, in the region of Archensee (in the Tyrol) is somewhere I had visited several years ago. It was winter then and everything coated in an icy white. It was all you'd imagine from a mountainside resort enjoying its most popular season.
This time I was invited back with my family to sample the area's hospitality in another peak season - summer. Arriving at this prettiest of locations my kids were thrilled. The sky was blue, the mountains lush green and at nine kilometres long, Lake Achensee was crystal clear and inviting.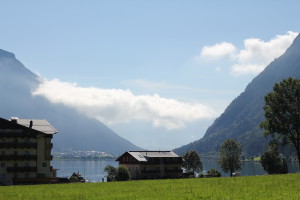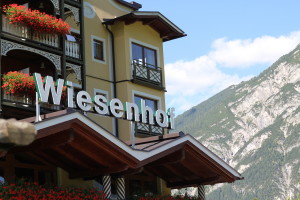 We stayed at the family run Wiesenhof Hotel, and you couldn't wish for a better place to be based. Many guests are German or Austrian but the word is out about this gem and there are now an increasing number of visitors arriving from the UK.
The hotel was originally a farmhouse built 300 years ago, and is run by a third generation of the Entner family - Johannes and wife Alexandra but Johannes' parents are still very much part of the family business. Much renovation work has been done over the years and it's now a 4* superior spa hotel.
It ticks all the boxes of what makes a top class hotel: comfort, amenities ,food and marvellous hospitality.
Obviously winter is all about ski-ing and cross country but there is just as much - if not more - to be enjoyed in the spring/summer; hiking (on the doorstep), paragliding (alas, that's not me pictured below), cycling (bikes are freely available from the front of the hotel and e-bikes are available for hire) and pony-trekking (this can easily be booked) are just a few ideas.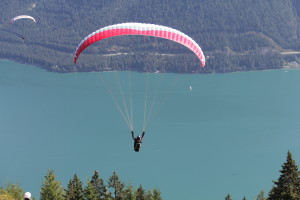 I was particularly impressed that, from July to September, the Archensee region operate a weekly Children's programme. At a cost of just 10 Euro a day this is exceptionally good value. Normally it would be outdoor activities but unfortunately the day my kids were booked it was raining, so it was indoors. However they still enjoyed themselves playing games and making t-shirts and jewellery with the enthusiastic young team workers, and it gave mum and dad a bit of time to sample the treatments on offer back at the hotel.
The Wiesenhof prides itself on it's wellbeing programme, but even if you didn't try the treatments you couldn't fail to feel relaxed here.
In the interests of research however (!) I tried the Tyrolean Alpine Hay Bath, the Shale Oil Bath and the Musical Sound Bed. Verdict? Bliss.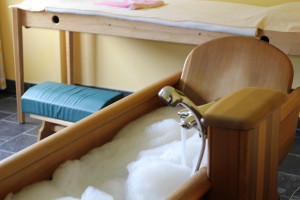 Local herbs and products are used in the spa programme - the Shale Oil is mined locally in the Karwendel mountains. It's said to be of great therapeutic benefit, easing muscle and joint pains, and helping with arthritis. After a day of strenuous hiking this certainly made me feel better.

Mountain air really does make you hungry and fortunately there is a vast range of healthy food available (and not so healthy) - all day long.
Breakfast has everything you could possibly imagine - and more. On our last day the appearance of a chocolate fountain next to the colourful fresh fruit naturally blasted the kids into a total frenzy. There is light lunch of soup and salad between 12-2pm, and at 3pm the Austrian cakes appear - great if you have been active all day, perhaps not so good if you have just been lounging around.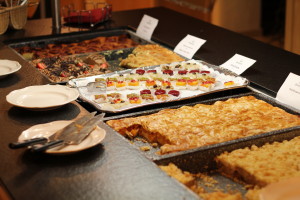 The evening meal has a choice of 4 main dishes, and if that's not enough or you have annoying/fussy kids there are a selection of other meals on offer too. Nothing is too much trouble for the family Entner, who really do go the extra mile to make guests feel more like family.
We spent a wonderful few days in this beautiful resort. The clean, fresh, mountain air and temperature suited me as did the generally relaxed lakeside atmosphere.
I have been on the look-out for holidays that actually are holidays for children and adults - and in Pertisau I have found it.
I have no hesitation in recommending this lovely place and really hope to go back again very soon.
I'm not alone in thinking it's great - take a look at latest Trip Advisor comments.
Wiesenhof Special Rates

Winter Holidays
Annemarie Flanagan
Where have you been this summer? Would you recommend? Please send your reviews and images to editor@ealingtoday.co.uk or comment on the forum.
23rd August 2012