Asian market eating has arrived in Ealing
Related Links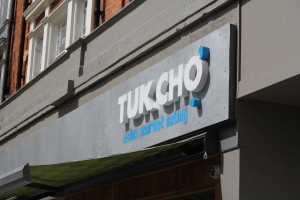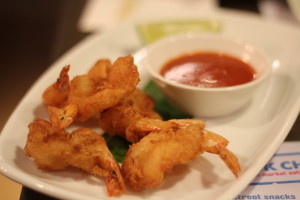 ebi katsu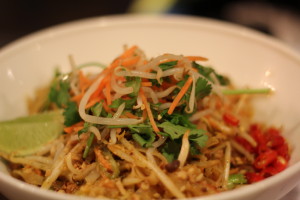 prawn pad thai £8.80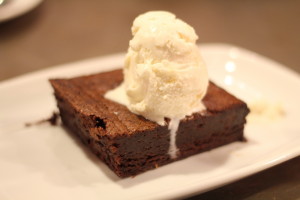 lime leaf choc brownie £4.90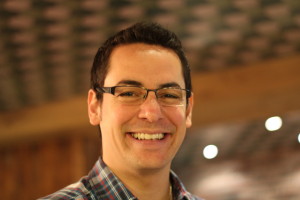 Manager Eric
Tuk Cho
28-30 New Broadway
Ealing, London
W5 2XA
Map
t 020 8567 9438
Participate
Comment on this story on the forum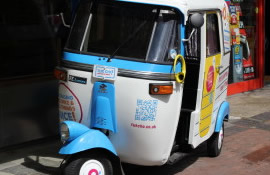 Being a fan of all things noodle I had always hoped that Wagamama would one day grace our high street - but it never happened.
So, when the brightly coloured tuk-tuk arrived outside Ealing's newest restaurant just after Christmas last year, I was very curious.
Opening a new business at the tail end of the year is always tricky and it's taken a few months to find its feet - but the good news is Tuk Cho is actually a better (and far more relaxed) version of Wagamama.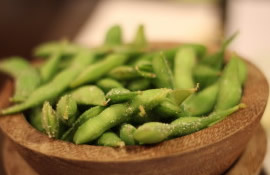 edamame £3.60
We were kindly invited to sample some dishes from the vast menu which promises a journey into south east asia 'discovering asian food markets and new flavours'.
Starting with a selection of 'street snacks' I was pleased to see my usual Wagamama favourites; edamame beans and deep fried prawns (ebi katsu).
We also shared some delicious and summery Vietnamese vegetarian goi cuon, which are very light rolls of rice vermicelli, lettuce and herbs with a peanut and hoi sin dipping sauce.
You could quite easily have a fine lunch picking solely from this part of the menu but we wanted to see if the rest of the dishes matched the quality of the starters - so happily tucked in to mains and puddings too.
I'm pleased to say that standards were high throughout.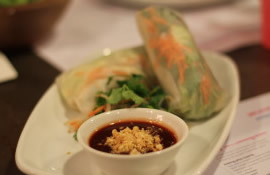 goi cuon £4.00
My husband had thi bo kho which he throughly recommends. Slices of fillet steak with a star anise, basil and spring onion in oyster sauce. He polished it off saying it was
'extremely tasty' - a man of few words.
I ordered the prawn pad thai. It's a huge bowl of noodles with peanuts, beansprouts and lime - oh and not forgetting the chilli.
That naughty little red pepper is on the side of the dish - so if you aren't such a big fan you can avoid it. I however happily mixed it in, which made it all a little hotter than anticipated - but I'm not one to shy away from the spicy side and did enjoy my meal.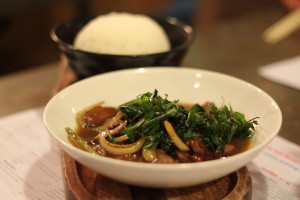 thit bo kho £8.90
The lime leaf choc brownie for dessert was one of the nicest I have ever tasted. I didn't think I would have any room left - but it's so light I managed just fine. The combination of chocolate and lime with ginger ice-cream is inspired.
Tuk Cho is based on similar principles to Wagamama - the main dishes are familiar, food may all arrive at the same time and prices are more or less in line - but it has a more independent and quirky feel to it, and is somewhere you could linger - unlike it's more clone like competitor.
Friendly manager, Eric Gonzalez, told us the restaurant (the former Edwards Bar - now owned by Mitchells and Butler ) has been designed with a variety of seating arrangements and can accommodate families (there is a kids' menu) workers in for lunch (a daytime menu is available for £6) and big group bookings.

Service is fast and friendly and Tuk Cho is a very welcome addition to New Broadway - a second branch is expected to open in W4 in the summer.
Who needs Wagamama?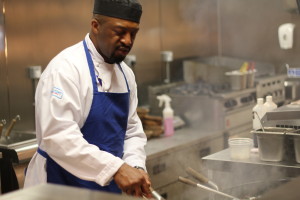 Annemarie Flanagan
May 2nd 2012