Penny Flood reviews Oscar Wilde's 'An Ideal Husband'
It's London 2014 and anybody who's anybody in society is at a cocktail party at the home of too-good-to-be-true MP Robert Chiltern (Doug Cooper) and his beautiful, adoring wife Gertrude (Kathryn Hamilton-Hall). She is unaware that this privileged existence could come crashing down around her ears at any moment – Robert's got a secret and somebody's about to let the cat out of the bag.
In this smashing new production of Oscar Wilde's witty political and social satire, the action has been shifted to the 21st century. Without making any fundamental changes to the original, director David Phipps Davis has tweaked the script and removed the period references, toned down the flowery language and given the cast modern costumes. Apart from that it's the same text as when it opened in the Haymarket in 1895.
It works very well. Political shenanigans and class snobbery aren't the sole preserve of the 19th Century, they're all around us now, and Wilde's observations and one-liners are still spot on.
As Robert frets and fusses about what he should do, his would-be blackmailer, woman with a past Laura Cheveley (Jill Rutherford) pouts and struts magnificently around the stage terrorising anyone who gets in her way. This includes Robert's best friend the hedonistic and hung over Arthur (Jamie Thompson) as Laura's got him in her sights as well. The battle of wits and wills between Arthur and Laura runs through the play, adding another dimension as they edge around each other like fighting cocks, equally matched in deviousness.
Meanwhile, there's a splendid comic performance from Michael Kenneth Stewart as The Earl of Caversham. He's Arthur's father and can only communicate in a series of bellows, and while he's not fraternising with the Prime Minister he's getting more and more agitated about his son's bachelor status. Guaranteed to get the wrong end of any stick, his intervention sends the plot hurtling in another direction just when it all seemed settled.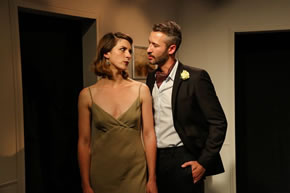 Misunderstandings abound, creating some fabulous comic moments which get a bit pantomime-like towards the end with the confusion over who's been shown into which room and who's seen which letter.
A strong cast coupled with Phipps Davis' tight direction carry it off magnificently. It's great stuff and a rare opportunity to see a new slant on a classic but be quick; it's got a very short run and is only on until the 19th July.
July 10, 2014