But what do you do when your forget?
Who doesn't like cake? Ok we all may have our particular likes and dislikes (not so keen on fruity ones myself) but generally a piece of cake has to be regarded as one of life's pleasantaries.
There's usually always some sort of cake at most celebrations, so how I got myself to the point of forgetting to order one for my daughter's Confirmation day last week I will never know.
As panic set in I figured I would have to do a last minute dash round the shops but then I remembered Cupcake Avenue - just opened on Churchfield Road, W3.
A quick call to the delightful Reema Taank and my day was saved. Yes, even with this very late notice she kindly agreed to help me.
We wanted a fairly simple chocolate cake - not too fussy and one that would feed about 12.
Reema, working with partner Alpa Patel, is happy to produce specific themed cakes (she recently did some amazing Alice in Wonderland cupcakes) or, as in my case, they can provide some ideas of their own. I was quite happy to leave the cake in their very professional hands and get on with all the other arrangements for the day.
Normally around a week's notice is required for specialist cakes but Reema and Alpa worked some magic and turned around this masterpiece in just a couple of days.
Needless to say it was beautiful. It made a big impression with the guests when they first set their eyes on it , but as they say the proof of the pudding...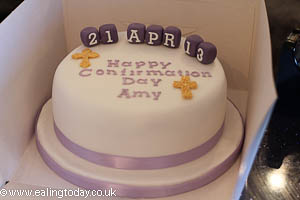 Cutting through the white fondant icing we discovered a large chocolate cake sandwiched with butter cream. The sponge was light and of a delicate texture, the taste - just delicious. It was chocolatey - just as we wanted but not too rich or overpowering as some chocolate cakes can be.
The guests loved it - and were just a little too keen in my opinion to sample a second slice.
Let's just say there was very little left when they all went home. Empty plates are always a good sign, and when some guests asked for Reema's details we knew the cake was a really big hit.
Reema and Alpa can make large specialist cakes and all types of cupcakes to order.
Cupcake Avenue is also currently busy with children's cupcake parties.
All prices on application.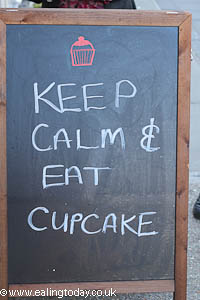 A big thank you to Reema and Alpa for saving my day.
Annemarie Flanagan
April 25th 2013