Stuart Webb puts the new Citroën DS4 range through its paces
The sheer choice of high quality five-door cars currently on the market is mind-blowing. Technological advances have seen standards raised across the board, with a strong emphasis on style, finesse and engine refinement. The competition between manufacturers such as Audi, BMW and Mercedes is naturally fierce and, with the launch of the exciting DS4 range, they have now been firmly joined in commercial battle by Citroën .
As a company, Citroën has an impeccable pedigree. In 1913 it was the first European automotive business to implement Henry Ford's mass production manufacturing system. The original iconic DS range was produced from 1955-1975 and was justly renowned for its aero-dynamic futuristic body design, ride quality, handling and braking. At the prestigious 1999 Car of the Century awards the Citroën DS was voted into third place, beating the Porsche 911 into fifth spot, and was hailed as 'the most beautiful car of all time' by no less an authority than Classic & Sports Car Magazine.
As befits a company with such an impressive reputation, Citroën has now raised its game again and, in the shape of the DS4, created an all-new brand that looks every bit a market winner. True to form, it has already won 'Most Beautiful Car of the Year' at the 26th International Automobile Festival.
The DS4 comes in three styles, the DSign, DStyle and DSport, and all are available with both petrol and diesel engines and an outstanding level of equipment (Canberra alloy wheels and cruise control are standard even at the entry level DSign).
The model I road tested was the DSport HDi 160 6-speed manual. A high stance coupe, it's the best example I've seen of a car that fulfils the role of family vehicle while still retaining a sporty coupe appeal. The coupe look is achieved in traditional style courtesy of a sloping rear quarter and three doors; however, ingeniously concealed door handles at the end of the rear side windows give it five doors without remotely compromising the sleek lines.
Boy, can the DSport shift! The 2.0 litre high pressure direct diesel engine develops 160BHP and delivers 0-62mph in 9.3 seconds, the torque is truly impressive (you'll need to keep a firm hand on the wheel if you want a quick start) and for a diesel it's unusually quiet. This is a car that really does make you want to drive and, with a combined fuel economy figure of 55.4 mpg, doing so won't burn a hole in your pocket.
The seating is incredibly flexible. At a slither under five foot six I often find it a challenge in manual cars to find a driving position that allows full depression of the pedals without having my arms cramped. There were no problems here. The versatility of the seat height adjustment and lumber support caters for all lengths of leg and, when you add this to the high stance set up, you really do have a cockpit feeling.
Inevitably, the DSport's list of clever toys is too long to itemize, but let's just say there are more than enough ingenious gizmos with which to play. There is, however, a clear focus on allowing the driver to customise the car, hence the part-digital dashboard allows you to choose different display colours and the indicator sound can also be changed to suit.
The height adjustable sun visors are one of the best ideas I've seen in many years, Bluetooth and SAT NAV are built-in and the sound system is crisp and clear. It did take a little while to get used to the automatic hand brake. The clumsy handle has gone to be replaced instead by a small finger lever. However, in truth, you don't really need it as the DSport automatically applies and removes the hand brake when you stop or start.
Parking is facilitated by front and rear sensors and there's even a parking aid button that indicates the level of effort you'll require to manoeuvre into a given position. Passenger and loading space is excellent, although perhaps the addition of a flat rear loading bay might have been useful with bulkier objects. Again Citroën's attention to detail is apparent; the boot boasts a self-chargeable torch and charging point.
And what about the spare wheel? Well, there isn't one. The DSign has 17" alloy wheels and the option to carry a spare; the DStyle has 18" alloys with a Space Saver to get you out of trouble; and the DSport, with its impressive 19" alloy wheels, has a foam pressure repair kit and electric pump that allows you to drive three miles or so to safety. Of course, you can always press the SOS button in the driver cockpit and you will be immediately patched through to roadside assistance that will already know your exact location from a GPS signal. Clever stuff!
For me, the DSport is a head-turning winner. And while I've yet to test the other models, Citroen has clearly designed a versatile range of five-door cars that will definitely have other manufacturers looking anxiously over their shoulders. No wonder Citroën has even awarded the DS4 its own distinctive badge.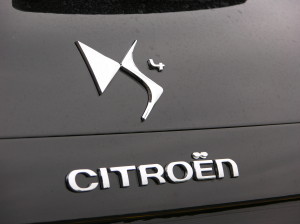 Stuart Webb

Advertorial

7 June 2012