Penny Flood applauds a powerful and sensitive new play at the Bush
This deeply moving and powerful story is about a shameful episode in British history when little children, guilty of nothing more than being orphaned or born to single mothers, were taken away from their homes and shipped to Australia, a ghastly practise lasting more than 350 years that only stopped in 1970.
One day, in the early nineteen sixties in Liverpool Mary, a young mother, comes home from work to collect her four year old son only to discover that his carers have handed him over to somebody. They wouldn't say who took him nor where he is gone, and trying to get any information is hopeless as the church and state close ranks and nobody will tell her anything.
He was shipped to Australia and now, more than half a century later Gerry, the little boy, is trying to find his way home, physically and mentally, and he's got a long way to go.
Writer Tom Holloway has researched his subject meticulously, working with the Child Migrant Trust, the charity set up to try to reunite families torn apart by this scheme. He's based Gerry's story on real life, things that actually happened.
The story opens in Liverpool as Gerry meets his mother, the woman who he thought was dead. It's a moment they have both longed for but neither knows how to handle it, their conversation is riddled with awkward silences but between the awkward silences and pots of tea they tell their stories.
Of course they're heartbreaking and at times harrowing but there are moments of extreme tenderness and even humour.
Throughout the first act the action shifts, rather unsettlingly, between Liverpool and Australia where we see Gerry at home, a damaged alcoholic living with his daughter Sally. Anxious to find out about her father's past she meets Mark, a worker at the Trust. Against all odds Mark traces Mary and so the journey home begins.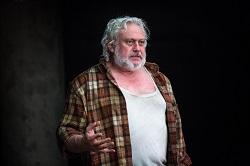 Russell Floyd and Eleanor Bron are terrific and convincing as Gerry and Mary, he a great awkward, angry, bear of a man, she a little thing with a backbone of steel, excellently supported by Sarah Ridgeway as Sally and Sargon Yelda as Mark.
Not an easy subject, but sensitive and intelligent writing with clever direction brings these people to life, to expose something that has been swept under the carpet for too long.
Forget Me Not continues at the Bush Theatre in Uxbridge Road until January 16 from Monday to Saturday, except for December 24 - 27 and New Year's Day. Tickets can be booked online or call the box office on 020 8743 5050.
December 16, 2015