Acton pub that's beginning to soar
To some it's best remembered as the White Hart where famous names like The Who and David Bowie once played. Others may recall its days as that rather colourful antipodean favourite, The Redback. Now however The Aeronaut is making its own mark.
Since it opened over a year ago, The Aeronaut on the Uxbridge Road in Acton ( next to the police station) has been quietly attracting a diverse and rapidly loyal clientele. Having been invited to have a look and test out some of the menu it's not hard to see why.
The pub is full of surprises. It's absolutely huge inside with an interesting and eclectic array of artefacts related to flying ( George Lee Temple - an Acton man became the first Englishman to fly a plane upside down) and other eccentricities.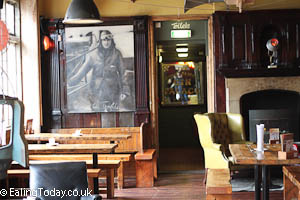 There's a room decked out and used for circus nights (it can be used as a function room too) the outside space has been well utilised with fairground style heated cabins and there's even a microbrewery producing very,very nice beers on site too.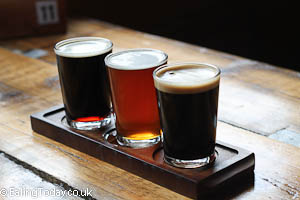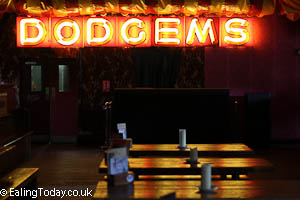 It's quirky and unique and despite being on the busy Uxbridge Road would not be out of place in Brighton - not so surprising given the owners are The Laine Pub Company which now has 40 pubs in the seaside town.
With no music licence (this was lost during The Redback days) the new owners had to think imaginatively as to how they could best utilise the imposing pub. Activities throughout the week now include the aforementioned circus (and disco nights), a quiz night as well as swing dancing lessons. There will soon be a comedy night thrown into the mix too I'm told.
It's certainly a lively pub - but with so much going on I didn't expect the food to be much other than pub-grub. I was very pleasantly surprised.
Lunch can be from the good value £5 menu with enough to please most I'd say. We decided to try the more high end pub menu.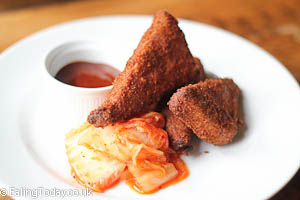 The Pulled Pork Croquettes, BBQ Sauce & Kimchi ( £6.50) were a hit with my other half who said they were packed with meat but still light and tasty.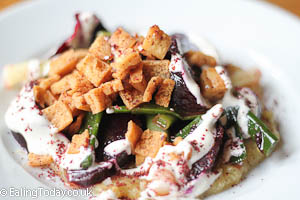 I was pleased to see some some interesting veggie choices and thoroughly enjoyed the Smoked Aubergine and Beetroot Salad with Baby Leeks, Tahini Yoghurt, Sumac & Crispy Flat Bread (£6.50). This was a delightful combination of flavour and texture and quite delicious.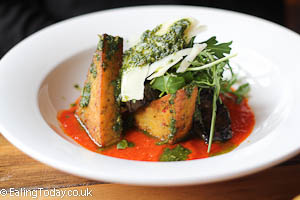 My main was also veggie and recommended as one of the specials of the day - crispy polenta cake, grilled aubergine and tomato sauce dressed with rocket, parmesan and basil pesto. I don't eat polenta much, as it can be .. well bland. This certainly wasn't. It was light, crisp and really very pleasant to eat.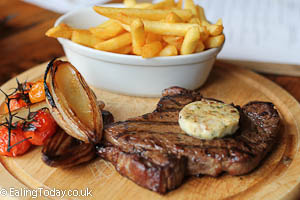 My other half went for the rump steak and chips and assured me it was a very good cut of meat, cooked to his liking (medium rare) and 'very satisfying indeed' (£18.50).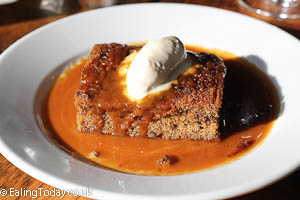 With just enough room for desserts we shared a heavenly pecan and banana pudding with toffee sauce and clotted cream (£4) and a white chocolate creme brulee with coconut biscuits (£4)... also nice but the pecan pudding was the absolute winner.
Overall I was very surprised with the quality of the food, it was to a much higher standard than I envisaged. The starters were perhaps a little on the expensive side - it would make more sense to price them the same as the desserts - but I guess there are more ingredients and preparation to consider.
We really enjoyed our visit to The Aeronaut it's a friendly and very lively pub, with something going on to appeal to almost everyone - on Sunday Roast day they even have a separate room showing children's films.
The Laine Pub Company say they want to make pubs relevant and central to the communities in which they operate. I don't think there is anything quite like this place in the rest of Ealing or Acton - why not pay it a visit and see for yourself?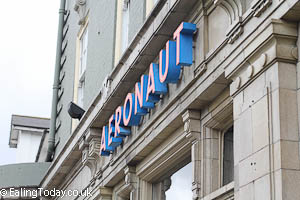 Annemarie Flanagan
26th February 2015