Polish on list of subjects to be dropped by 2018
Related Links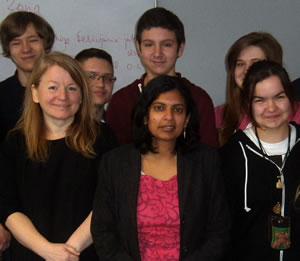 (Dr Rupa Huq met with Year 13 Polish students on 21st March)
Members of the Polish Saturday School in Ealing have expressed their concerns about the government's decision to abolish Polish A-Level from 2018.
Over the past few years, exam boards have been under pressure to axe subjects which attract only small numbers of students. Along with Polish, languages like Japanese, Hebrew, Urdu and Bengali face being dropped from the curriculum.
There are currently over 4000 Polish-speaking school children in Ealing. The Tadeusz Kosciuszko Saturday School there, founded in 1948 and currently attended by about 700 pupils, is the biggest in the UK. New spill-over schools have been formed elsewhere in Ealing Borough, at Ellen Wilkinson School, in Elthorne and in Northolt.
Nuna Staniaszek, vice chair of trustees at the school, expressed disbelief at what she sees as a "very short-sighted decision" by the Government, pointing to the "increasing numbers of young people" wanting to take Polish A-Level at the school, and the fact that Polish is the "second most frequently spoken language" in the UK.
Wiktor Moszczynski, Chairman of the Polish Veterans Association, argued that learning Polish offered important benefits to the UK. Wiktor said: "In a CBI [Confederation of British Industries] survey last year, UK businesses listed Polish as the fourth most important language to acquire amongst its staff. A good knowledge by UK citizens of Polish is vital for the UK's commercial, cultural and diplomatic interests."
In a visit to Ealing saturday school on Saturday 21st March, Dr Rupa Huq, Labour's candidate for Ealing Central and Acton, spoke to Year 13 students preparing to take their Polish A Level exam in June. Izabela Kaliniecka-Williamson, who studies at Twyford High School in the week, explained the importance of the A Level to her. Izabela said "It gives you a wider range of A Levels and it allows people who were born in England to carry on with their culture."
Speaking at the school, Huq gave her support for the Polish A-Level subject:
"The Poles have been an important community, central to Ealing's social fabric for many years. The Polish school in Ealing is a trail-blazer, it has been in existence for 65 years and now advises newer schools. It would be serious misjudgement to see the Polish A level, along with Hebrew, Urdu. Japanese and my parents' language, Bengali, axed from the curriculum."

April 1, 2015