David Tennant confirmed as judge for fundraiser
Rehearsals are now in full swing for the final of Chiswick's Own Strictly Charity, which will be held at The Park Club, Acton on 28th November 2015.
And actor David Tennant (Dr Who, Broadchurch, Hamlet), has been confirmed as the newest member of the judging panel.
After the extraordinary success of Strictly Charity at the end of last year, The Park Club and The Hogarth Health Club decided to do it all again – only even bigger and better and this year, in aid of the Children's Air Ambulance Charity.
The dancers all have their personal stories behind the challenge including Craig Sparrow (on right with partner Giulia Dotta). Craig (51), a Chiswick resident had a life changing experience when he was involved in an accident, resulting in his leg being amputated above the knee.
The father of two says: "I was utterly overwhelmed after this life changing event by the help and support I received from the Park Club and Hogarth teams. So the real reason I decided to give it a go was the fact that I thought it was time for me to start repaying some of the generosity I received. This will also be the first thing mobility-wise I have attempted since the accident other than getting up, going to work and being a dad taxi.
"There is also the obvious comedy value of seeing me hop around the room in glitter make up and Lycra".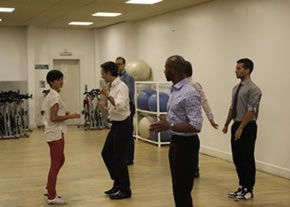 Hogarth, and Park Club members and friends have now been selected to dance with their respective professional dancers and the celebrity judging panel are almost complete.
Event Director, Saskia DeVito says,"We cannot wait for another night of fantastic costumes, tans, makeup and dance routines all here in West London at The Park Club, Acton on 28th November 2015".
Arabella Weir and Sally Phillips have been confirmed as judges.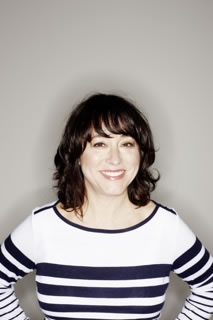 Arabella Weir
Comedienne, actress and writer Arabella is best known for her roles in The Fast Show and Posh Nosh, and for writing several books including the international best seller Does My Bum Look Big in This?). Sally Phillips is best known to us all from co-creating and starring in the all female series Smack The Pony, as 'Shazza' in Bridget Jones and 'Tilly' in Miranda.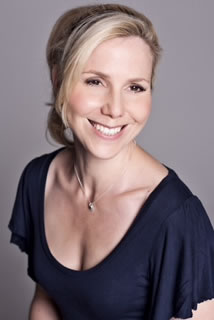 Sally Phillips
Tickets are NOW AVAILABLE on-line to all comers for £30 each plus a £2.33 booking fee on a first come first served basis!
For VIP ticket enquiries and sponsorship opportunities, please contact saskiadevito@googlemail.com.
Special thanks go to local companies, Porsche Centre West London, Hasu and Arthur Razor for their early sponsorship of the event.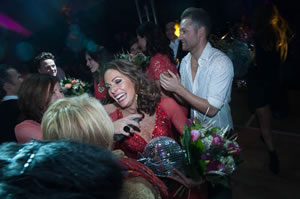 Last year's Strictly final winner

This is the perfect night out for Strictly lovers, a fantastic alternative Christmas Party or just a superb night of entertainment where you'll be supporting a truly great charity.
November 11, 2015