Anton Hyman was brutally murdered on March 21, 2004
The mother of murdered Acton teenager Anton Hyman is launching a new organisation to raise awareness of youth violence.
A Mother's Teardrops will be officially launched on May 14th, the day before Anton's 25th birthday, with a march from Ealing to Acton.
Anton was 17 years old when he was found on Mother's Day, March 21st, 2004, floating face down in the River Brent in Hanwell. He had been shot, stabbed and beaten.

Despite a reward of £20,000, the murder is still unsolved.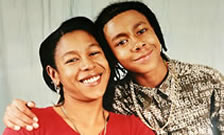 Anton's mother, Vanessa Hyman, says the May march and conference is aimed at keeping the case in the public eye. Hyman says she hasn't been able to grieve properly.
"First of all, we want justice for Anton. Secondly, we want to come up with solutions to stop the cycle of violence, to say to young people 'you don't have to be on the streets."



The May 14th conference will be held after the march at The Priory Community Centre in Acton. Organisers hope to urge the police to review the case of Anton's death and have it featured on the BBC's Crimewatch programme. The day will also include workshops and speakers who work with young people, to address issues around gang-related violence.




17 March 2011