"any move to create an international rail hub at the airport would undermine efforts to develop alternatives to short haul flights"
Related Articles
Participate
Comment on this story on the forum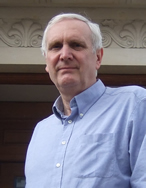 Wandsworth Council leader Edward Lister (pictured left),speaking on behalf of 2M, :
"Either ministers are hopelessly muddled about the practicalities of high speed rail or their apparent enthusiasm is a ruse designed to deflect attention from a forthcoming decision in favour of expansion at Heathrow.
"The whole point about high speed rail is that customers want to travel directly from city centre to city centre. So if you were serious, that's where the lines would run. Joining up the big centres of population with stations in the heart of each city on the line would generate the critical mass of passengers that high speed rail needs to work."
More than a quarter of all flights at Heathrow serve destinations which could potentially be reached within four hours by high speed rail. With fast city centre to city centre rail links, most of these flights would become unnecessary.
Ninety per cent of travellers heading for London are aiming for the centre of town, not the airport.
The 2M Group published 'High Speed North' in July. This sets out how a high speed link between London and Scotland with efficient links to Heathrow could reduce demand for short haul flights and provide a sustainable alternative to airport expansion.
The group believes that the priority for Heathrow should be good local rail links that allow passengers to travel to and from the airport in all directions with connections to mainline services.
This creates a simpler, cheaper and more logical development of a UK high speed rail network, without the cost and complexity of diverting via Heathrow - and without any need to expand the airport.
The 2M Group will be publishing its own plans for improved local rail links later in January. These will put Heathrow at the centre of a local rail network and begin to tackle congestion on local roads.
January 7, 2009