A truly special evening in aid of Russ Dawkins and Back on Track
Related Links
Finally, more thank you's to our supporters who include the wonderful Marmalade Jewellery, Feng Sushi, Nubeginnings, Savills Chiswick, Porsche Centre West London, Reach Local, Mike's Dive Store, Chiswick's Sipsmith, Acton's Hire Intelligence, Whitman & Co, Leiths, Inspiration Dance, DSI London, Hand Hair Studio, Dance Savoir Faire
Sophie Ellis Bextor To Judge Strictly Charity
Rugby Champ Matt Dawson Supports Strictly Charity
Singer Frankie Bridge of The Saturdays Sends Good Wishes To 'Strictly Charity'
The pictures below are tell tale of a truly special evening for all who were involved and supported our inaugural Strictly Charity 2014 event – raising funds for Russ's Back on Track Charity.
Strictly Charity was hosted by impressionist, comedian and actress Ronni Ancona - who was simply incredible. Thank you Ronni! Our eclectic and illustrious panel of judges all had their own particular perspective on the contestant's performances. Singer, songwriter Conor Maynard was the only judge to give a score above ten with a sideways 8 apparently deserving a score of infinity!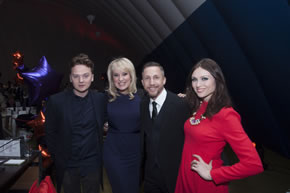 The judges
Joey McKneely, director and choreographer of none less than West Side Story was unquestionably our expert judge, making sure that where there were mistakes, there was critique and when there was genuine skill, appreciative praise.
Hot on Joey's heels with regard to expertise was singer, songwriter - and let's face it dancer - Sophie Ellis Bextor, who of course performed so brilliantly in Strictly's 2013 Series (remember the Charleston!!?@!) and is actually performing in this year's Strictly Come Dancing Christmas Special! Last up and our Head Judge was TV and radio presenter Nicki Chapman, who of course has had plenty of judging experience from back in her Pop Idol panel days!
As each of the 11 couples performed, the audience got louder and louder and after no less than 3 contestants had received the maximum 4 tens from the judges, it was time to combine the audience vote (measured by the height of £1 coins committed as votes) and find out our top 3 finalists!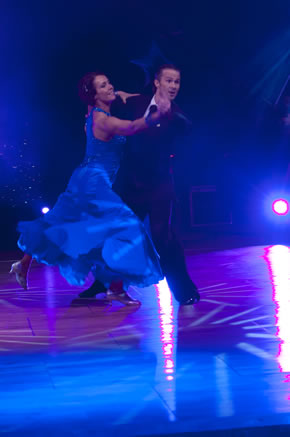 With over £4000 in votes alone, there was no knowing who would make it through. All of the contestants were incredible but Sam DeVito and his professional partner Daga, have to have a special mention as they received 4 tens but didn't make it through! Dani Kingdon, Rosy Brooks and Jo Dean did!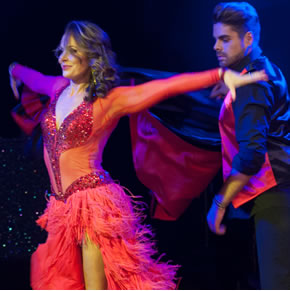 Jo and Nuno in action
And so the dance off began – Rosy went first, then Jo and Dani last! With this final chance to impress, all three dancers produced their best and the crowd went wild.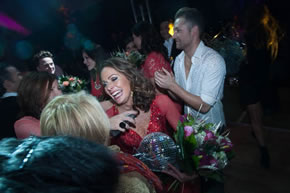 Everyone's gaze turned to the judges. Whispering was taking place, along with nodding of heads and smiles between all four judges. Rosy, Jo, Dani and their professional dancers lined up alongside Ronni who told the judges it was time for their decision of who is the winner of Strictly Charity 2014. As Head Judge, Nicki Chapman took centre stage and announced the winners of Strictly Charity 2014… JO DEAN and NUNO SABROSO. And with all the contestants, professional dancers and judges lined up, Jo and Nuno raised the glitter ball trophy as 2014 champions!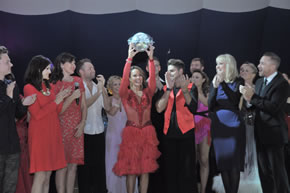 The atmosphere was electric and with everyone charged with excitement there was only one final thing to do – get everyone dancing.
A massive thank you to the extraordinary quality of dancing from every contestant and their professional dancers who helped our contestants achieve this: to Sarah Wyn Jones and Ainaris Buozys, Gwen Jones and Matt Liang, Dr Rosy Brooks and James Wilson, Janet Stone and Andrew Cuerdon, Richard Manson and Leila Stewart, Dani Kingdon and Rafal Lautenbach, Joe Ouseley and Melodie Brannan, Sam DeVito and Daga Rukowska, Andy Stone and Nadia Kelvin, Jo Dean and Nuno Sabraso, to Viktoriya Wilton and Andrew Cuerdon who headed up the pro dancers through their dance company's Inspiration 2 Dance and Dance Savior Faire. The list does go on.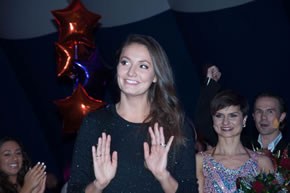 Organiser Saskia DeVito
To our celebrities, Ronni, Sophie, Nicki, Joey and Conor, the Park Club Team and of course Saskia who organised the whole event! Penultimate thanks go to our sponsors, without whom we couldn't have afforded to put on such a swish show and lastly to all those who came and supported the event! I am sure you will agree that it was worth it! Read on for what it was like to be a contestant.
Keep dancing!!!!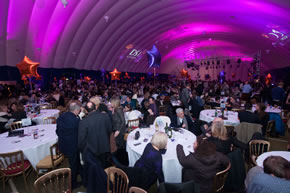 the Dome where the final was held
STRICTLY CHARITY: A contestant's experience!
I've been asked by a few people how the Strictly Charity event went. It's difficult to sum up in just a few words and without getting a bit emotional, so please forgive the gush. Thrilling? Professional? Nerve-wracking?... Finished? All of that and more and that last one certainly the hardest to say.
The 11 week build up turned me from a confused, excitable pretender into a determined and driven (but still excitable) contender with immoveable targets of entertaining without falling over and raising as much money as possible for the Russell Dawkins Back on Track Trust. I went into the competition totally unaware of what to expect from the experience and came away with so many superlatives for the organisers, the professionals and my fellow contestants and I still couldn't even begin to share them out. Each person deserved them all.
What our professionals were able to do with their bodies and ours under such extreme pressure and with all the patience, grace and control that even a super-human would struggle to muster simply blew me away. The amateur contestants pushed themselves week after week both physically and mentally, showing the strength to come through each second of a session having moved a step closer to their goal.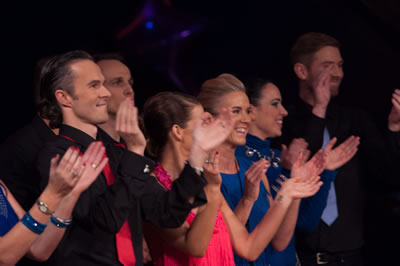 The Strictly team
What I witnessed on the night from the Green Room were examples of people who had put heart and soul into the night and after a scheduled 10 hours of training slipped into their outfits, stood tall and delivered performances in front of a flourishing crowd that even they couldn't have hoped for. Each dance was unbelievable. Saskia and her team diligently nurtured the event from it's inception through to launch with such enthusiasm, professionalism and attention to detail that it went from being a mere 'show' to a spectacle of unfathomable proportions.
At every corner and on every level Strictly Charity left me breathless, speechless and wanting more and it's an experience that none of us will ever forget nor want to. Which leads me to my partner, Daga, who for me personifies those feelings and the show and deserves a special mention; a bundle of strength, bravery and beauty who made me laugh constantly and encouraged me to work tirelessly to turn this pigeon-footed man-child into something resembling a dancer.
Until the next Strictly Charity where more strong, brave and beautiful people will take to the stage to support Back on Track and wow the public and themselves by taking the first and last steps of what will be another incredible journey. I.. can't.. wait.


December 11, 2014