Countdown begins to the hottest ticket in town for December final
Husband and wife duo, Andrew and Janet Stone, are both contestants in West London's Strictly Charity this coming 6 December 2014, at The Park Club, Acton. Inevitably there will be rivalry between this couple, but will come out on top. We explore a little further below but first watch a video of Strictly contestant Jo Ouseley and his professional partner Melodie Brannan which provides more than a sneaky peek of their TANGO journey so far! Do watch – it's a fab video

JANET STONE:
I loved dancing as a child and attended regular classes in ballet, tap and modern. That all stopped when I discovered other interests at university, but I returned to contemporary dance and tap whilst studying for my professional exams. I found it a welcome release from the books and a great way of socialising and exercising. I danced with a small, informal group and we performed in various, amateur (very) shows. After returning to London in 1997, I continued with various dance classes but have never done a performance since.
Seventeen years later, having swapped dance for tennis, I found myself entranced by the glamorous Strictly Charity poster in The Hogarth reception. I was not picked to dance in the event – the competition is stiff - but was kept as a reserve. Then someone dropped out and suddenly here I am trying to Quick Step with Andrew Cuerden. This dance is not easy for me and the glitz and glitter of my dreams seem a distant memory. So far, I have trodden on poor Andrew's toes, kneed him in the groin and kicked him in the shin. As soon as the "quicks" turn to "slows" it's a full on collision course and he's taking the full impact.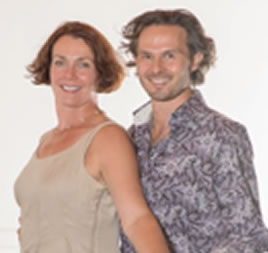 They haven't got to costumes yet, but if he appears as a mummy on the night, rest assured those bandages will be for real!
More importantly, I am delighted to be able to do something positive for the Russell Dawkins' Back on Track Charity. The contribution and support that this event will give to the charity and to Russell are the real reason we are all taking part. The Hogarth and The Park Club are one big family supporting him but the true stars of the show will be the professional dancers. If my own experience is anything to go by, they really will have suffered for their art by the time we get to 6th December. Please make a big effort to come and see them on the night. They are amazing!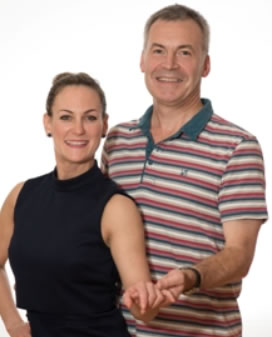 Andrew and dance partner Nadia

AND NOW TO ANDREW STONE:
Andrew's pathway to Strictly contestant is a slightly different tale.
"Not an obvious choice for this event, being a boring investment analyst by day. I wasn't even on the stage at school – being Strictly Backstage and Lighting !
So why am I doing it ? Because it's a great cause and one that I'm very pleased to support.
Also because my wife signed me up for it – she says it's good to get out of your "Comfort Zone" sometimes. So that's a funny thing, since I didn't even know I was in it Anyway, there won't be any "Comfort Zones" in our routine – I guarantee you Strictly Uncomfortable!"
Nadia Kelvin was born in Australia and started ballet classes at six years old. She currently represents England in National and International Dancesport competitions. Her dance teaching experience includes Karen Hardy's Studio, the University of London, King's College London and various other venues in London and abroad.
Read more here
TICKETS AVAILABLE TO MEMBERS AND NON-MEMBERS
If you're a Strictly fan, then why not buy the hottest ticket in West London to Strictly Charity LIVE at The Park Club on 6 December 2014. The event is open to non-members and will have all the glitz you'd expect !
You can purchase general admission tickets to Strictly Charity on 6 December 2014 7-11pm at The Park Club in Acton, West London for £25 each. If you want even more glamour and glitz then opt for an all inclusive VIP ticket for £100.
A fabulous night is guaranteed where you will also be supporting a fabulous charity www.russelldawkinsbackontrack.co.uk.


November 15th, 2014