Acton born actor was "hugely supportive" of school and Bush Theatre
Hammersmith's Latymer Upper School has led local tributes to Acton born actor Alan Rickman, following the announcement of his death at the age of 69 on Thursday January 14.
The school released a gallery of pictures on its website of Alan taking part in school productions, plus a recent photo of him speaking at a school prize giving ceremony.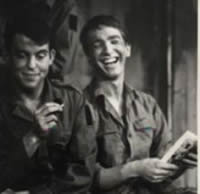 The school's tribute said:
Alan arrived at Latymer Upper School on a scholarship in 1956. It was in the School's Main Hall that the young Alan first trod the boards, treating his audience to lively performances in many a school play. These shows sparked a love of drama that would shape his life to come.
Alan's performances reached across the generations. Many of our alumni remember him from his theatre performances as a member of the RSC, including his Tony nominated role as Vicomte de Valmont in the play Les Liaisons Dangereuses, or from his parts in the films Truly, Madly, Deeply, Robin Hood: Prince of Thieves and Die Hard, to mention but a few. But it is his role as Severus Snape in the Harry Potter film series that resonates so strongly with our current pupils.
Alan was hugely supportive of his old school. He was due to speak at a Latymer event in aid of the School's Bursaries Appeal only this month - a cause very dear to his heart having attended Latymer Upper, as he did, on a free place.
Alan's speech at one of the School's Prize Giving evenings was captivating - and reflective of his views. In it he tasked Latymerians to decide "what sort of person" they are and to make a difference to the world. Today's children were the "hopes and voices" of so many people – in a few years they could be in seats of power and he called for them to show imagination and to be "brave and socially and globally responsible".
Inspiring words from a visionary Latymerian who will be much missed.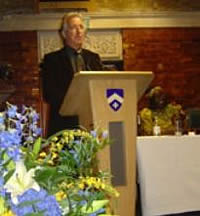 Latymer Upper's headmaster David Goodhew also tweeted his personal response to the sad new @LatymerHead: " Shocked & saddened to hear of Alan Rickman's death - a great actor and true Latymerian."
He was joined by fellow actor and Latymerian Rufus Jones, who tweeted @rufusjones1: " RIP Alan Rickman. An old boy at my school @LatymerUpper. Saw me do a sketch at 14 and told me to act. His encouragement meant everything."

Hammersmith MP Andy Slaughter, who was also a pupil at Latymer Upper tweeted @hammersmithandy: "So sad to hear Alan Rickman has died. Labour stalwart, west Londoner, friend of @bushtheatre, @LatymerUpper old boy - and brilliant actor."

The MP has also contributed a heartfelt tribute to the actor in the New Statesman, which includes his memory of their last meeting at the Bush Theatre. He says: "I last saw Alan in the bar at the Bush last autumn, after the Visitors, a wonderful play by Barney Norris about the effect of Alzheimer's disease, which moved him to tears. After the production he was generous with his time talking to the public, the cast and Labour activists. It is difficult to believe he won't be there when I attend the latest Bush preview, Pink Mist, next week.

" He lived with his life-long partner, Rima Horton, whom he recently married, and both were strong Labour people. Alan described himself as born 'a card-carrying member of the Labour Party'. Rima served as a Labour councillor in Kensington & Chelsea, where they lived, from 1986 to 2006."

He adds: " Alan Rickman had back story and local story which was authentic and grounded in the community he grew up in and to which he gave so much. I think and hope it helped him excel in his chosen profession.
" He will be missed by millions, but especially missed in his home town."
You can read Andy's tribute in full at the New Statesman's website .
The Bush Theatre, where Alan Rickman appeared in plays including Commitments in 1980 and The Last Elephant in 1981, tweeted this simple message @bushtheatre: " Devastated to hear that Alan Rickman has died. A great friend of the Bush. Our thoughts are with his family."
January 14, 2016