Her contribution was essential for securing the museum's future
Staff and supporters ohave praised Vanda Foster following her retirement as Curator of Gunnersbury Park Museum. She was given a very affectionate send off with a tea party in the old Kitchens of the Large Mansion attended by many staff, volunteers, friends and colleagues.
The staff presented her with plants and handsome pots for her garden and a wonderful replica Victorian photo album depicting staff, volunteers and colleagues dressed in appropriate bonnets, mob caps and other historic costumes! The Friends gave Vanda a framed sample of a beautiful hand-printed wallpaper by Marthe Armitage, which seemed appropriate as the work of a local craftswoman depicting a garden in the style of the Willow Pattern.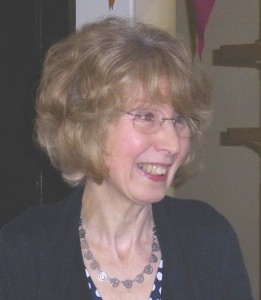 Vanda's long connection with Gunnersbury spanned more than 20 years. She has remained unfailingly cheerful, keeping the Museum going through some very hard times. Nevertheless she brought in a series of grants to help develop the Museum and its collections, especially working with a range of minority communities in Ealing and Hounslow. She was as likely to spend her day researching a new special exhibition as she was to be implementing the Museum's emergency drill, the latter being a rather grand way of describing skills which ranged from rescuing a painted ceiling when a first floor tenant's washing machine overflowed or positioning buckets during a downpour after roof lead had been stolen.
In recent years, there has been no park manager based at Gunnersbury so Vanda also dealt with all sorts of problems and crises as the most senior manager on the spot representing the contractors, Laings or Carillion. The Friends have found her a delight to work with, welcoming when we offered help or advice, thoughtful when we discussed ways of funding new acquisitions or specialist equipment for the Museum, and we believe that without her intelligent input, the proposals for the future of the Museum which underpinned the HLF grant application would not have succeeded.
Read more at GunnersburyFriends
August 11, 2014