There will be three classes over the Saturday 2nd and Sunday 3rd of June:
Saturday: 09.45 and 11.00
Sunday: 10.30
Each class will last for around 45 minutes, during which time up to 10 kids will be mixing and kneading noodle dough, before helping the TUK CHỢ chefs create oodles of noodles. They'll then sit down and eat the noodles as a group. Parents are encouraged to bring cameras as the kids will be offered the chance to be photographed with the now iconic Tuk Tuk – affectionately called Britney!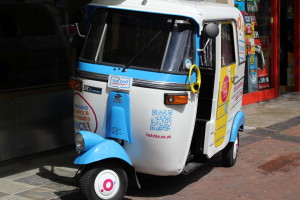 Each junior cook will receive a kid's pack, which contains a jigsaw, crayons and a balloon. During the class kids will be asked to design their own tuk tuk to win prizes, too. Bookings for the classes will be taken over the phone on 020 8567 9438 or by popping into the restaurant to make a booking. Parents are encouraged to stay and watch their kids.
Both the adult and new kids' menus are inspired by the fresh flavours and adventurous food combinations found in Thailand, Japan, Malaysia, Cambodia, Indonesia and Vietnam, TUK CHỢ brings the vibrant energy of bustling Asian street markets to London. Popular dishes with little ones include the Yaki Soba Noodles and the fabulous Chicken Katsu Curry.
Jonathan Knight, TUK CHỢ general manager, said: "Since we opened in late December we've been itching to put on some classes for kids – and National Children's Day gives us the perfect excuse. We can't wait to get the kids in here and have all that fun with dough. I'll certainly be wearing an apron!"
www.tukcho.co.uk / twitter: @TukChoEaling
16th May 2012