Literary, visual and performing arts brought together
Related Links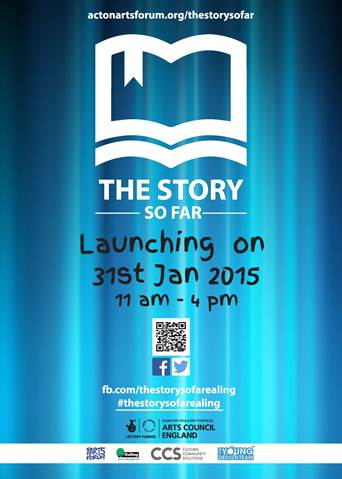 Participate
Comment on this story on the forum
An arts project linking two different areas of Ealing is launched this Saturday.
''The Story So Far'' is a partnership between the Council, libraries, Cultural Community Solutions, Acton Arts Forum and the local arts sector.
Events will be taking place at the Dominion Centre and Library in Southall on Saturday 31st January.
The second will be happening at Acton Library, Everyone Active Centre on Saturday 7th February. Both events are free and will take place between 11 am and 4 pm.
Rachel Pepper, Project Coordinator says:
"The launches promise to be a great way to start The Story So Far bringing literary, visual and performing arts together in the two new library spaces. There has already been a great deal of interest in the project and these events will give a flavour of what is to follow."
The launch events will include performances from The Refügees Sufi-Jazz musicians, Dhol2Dhol drummers, Stories n the Street, Shavanarthanalayan Indian dance, Afghan Academy performance, Pitshanger Poets, Kathakali Dancers youth dancers, Vishvam Tabla, WAPPY young poets.
There will be tasters and workshops including playwriting with OPEN Ealing, postcard making with Gunnersbury Museum, Arabic calligraphy, weaving and tapestry with Aruna, badge making and more.
There will be lots of stalls where you can find out and get involved with some of Ealings arts and cultural activities. Some of the artists and arts organisations taking part include the ARK, University of West London creative arts, Ealing Autumn Festival, 40:20 Art Group, I Goddess Creation, Pitshanger Poets & book sales, Carl Gabriel carnival art, W3 gallery, Westside Radio, W5 productions, Zaid art, A&A Photography, South Acton Imagination Library, APPLE arts.
There will be a programme of activities, events, workshops and performances from February with something for everyone.
Check The Story So Far website, facebook, twitter pages and sign up for the newsletter for the latest updates, or email ssf@actonartsforum.org
The Story so Far Launch I

Dominion Centre & Library, Southall

31st January 2015, 11 am - 4 pm

Performance:

Time

What

11:10

Dhol2Dhol

11:30

Launch speeches

11:45

Tour of new facilities

12:00

Story telling

12:30

Shavanarthanalayan Indian dance

13:00

Dr Amar Ahmad sufi-jazz music & words

13:30

Afghan Academy presentation

14:00

Constellations Poetry readings

14:30

Pitshanger Poets

15:00

Tabla

15:15

Kathakali Dance

15:30

Play in a Day

15:30

Keyboard

16:00

Close

Tasters:

11-15:30

Arabic Calligraphy

11-15:30

Tapestry & Weaving

12-15:00

Play in a Day workshop

12-13:00

Dhol2Dhol workshop

Stalls:

Set up from 10 am

1

Afghan Academy

2

Ealing Autumn Festival

3

40:20 Art Group

4

University of West London

5

OPEN Ealing

6

W5 Productions

7

I Goddess Creation

8

Pitshanger Poets & Book sales

9

Zaid art

10

Carl Gabriel art

11

W3 gallery

12

Westside Radio

14

Badge making

15

The Story So Far project

16

The Rick Yard, Pop up Pitzhanger

17

Transport along the A4020 exhibition
28th January 2015