Your chance to take part in music video for local band
Related Links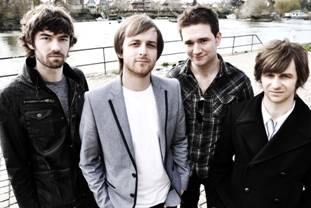 Storey: Lee Enstone, Liam Storey, Joe Macklin, Arron Storey
Participate
Comment on this story on the forum
West London Mental Health Trust is working with Indy rockers, Storey, to produce a music video for their latest single, Wander Free.
The video is being shot at Walpole Park, Ealing on Sunday 15 May, and they need extras!
Arron Storey, Ealing local and guitarist and keys player from Storey, said: "Wander Free is a song about mental health recovery. The film clip will show stories of people who have experienced a mental health problem, and will also include clips of us playing in Walpole Park. Open Minds is a great cause so we're glad to be working with them on this."
Also from Ealing, Drummer, Liam Storey said: "We're asking crowds to come down at 11.30am, meeting behind the Fountain. Bring a picnic, picnic blanket, garden chairs and your friends and family – it's going to be a fun day. We should have it wrapped up by about 2.30pm."
The band got involved in the Trust's Open Minds campaign because they wanted to be part of the movement to help reduce the stigma associated with mental health.
Megan Singleton, from West London Mental Health Trust said: "One in four people experience a mental health issue at some point in their life. It's great Storey have come on board with our campaign, and written Wander Free, which will be released in July 2011. We're hoping Wander Free will help people start a conversation about mental health and wellbeing, helping to increase awareness and reduce the stigma around mental illness."
Register your interest by emailing your name to member@wlmht.nhs.uk. For more information visit www.facebook.com/supportopenminds or www.wlmht.nhs.uk/storey.

May 3, 2011