Adrian Chiles, Helen Skelton and others raise funds for Marie Curie Cancer Care
A tea party has gone off with a splash this Saturday (21st May) as celebrities joined guests at the exclusive Park Club in Acton to enjoy an underwater afternoon tea and help launch Marie Curie Cancer Care's Blooming Great Tea Party campaign.
The whole event kicked off with a special guest appearance by Rebecca Adlington which was made possible by event and principal British Swimming partner British Gas.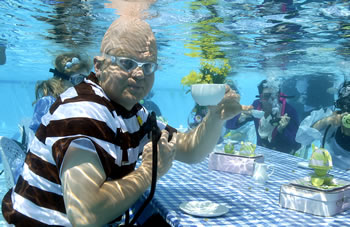 Adrian Chiles takes tea underwater
Celebrity diners Louis Theroux, Adrian Chiles, Zoe Tyler [Loose Women], Nina Wadia [EastEnders] and Aaron Renfree [S Club Juniors] joined over 80 guests in 'Mad Hatter' fancy dress at their underwater table to enjoy a selection of tea-time delicacies. On the menu was caramelized cucumber sandwiches, ice cubed fairy cake, and English breakfast tea - flavoured gel.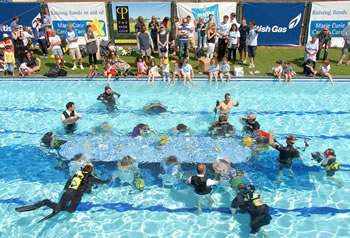 Underwater Tea Party at the Park Club
Marie Curie Nurse Honor Wright said on the day: "This is the first of thousands of Blooming Great Tea Parties set to take place this summer in aid of Marie Curie Cancer Care. The charity is encouraging people to hold their own tea party this summer – and it doesn't have to be an underwater extravaganza! Your Blooming Great Tea Party can be as simple as a cuppa and cakes in the office or a party in the garden with friends. However big or small – funds raised can make a huge difference in allowing Marie Curie Nurses like me to provide more free care to terminally ill people in their own homes."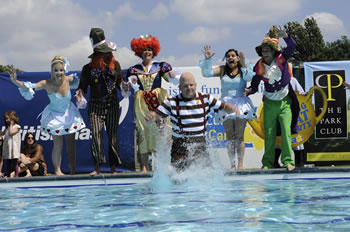 Adrian Chiles takes the plunge
The Underwater spectacular was part of The Park Club's 'Swimstock' event - a celebration of swimming with double gold Olympic medalist Rebecca Adlington who agreed to race against winners from swimming heats held throughout the morning.
As the principal partner of British Swimming, British Gas is supporting the event as part of their commitment to getting the nation swimming. A passion shared by British Gas ambassador Rebecca Adlington, who also supports the British Gas Pools 4 school programme which has taught thousands of children in the UK how to swim.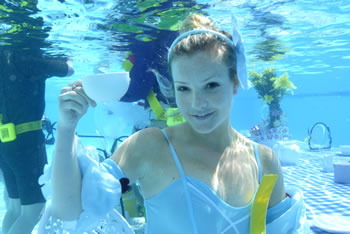 Blue Peter's Helen Skelton takes part in the Marie Curie UNDERWATER Blooming Great Tea Party
In addition to Swimstock, the Park Club, London's premier health and fitness club, also incorporated its annual Parkstock event, and welcomed special guest Sophie Ellis Bextor, along with the Fabba Girls and a host of other music entertainment who all donated their time in support of the charity.
Tim Slater, Director at the The Park Club who has organised the event said: "It's been absolutely inspiring having Rebecca here to train and swim with our members and all are dining celebrities were completely amazing when it came to trying to eat underwater! Undertaking such an adventurous scenario is all in day's work for The Park Club and everyone involved has totally embraced the day. We've all had a brilliant time and most importantly helped raised loads of money for this amazing charity."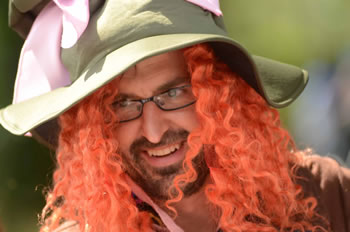 Louis Theroux as the Mad Hatter

May 26, 2011