Europe's largest Free Asian festival in Gunnersbury Park
Related Links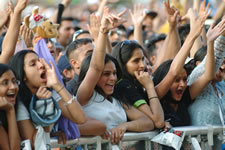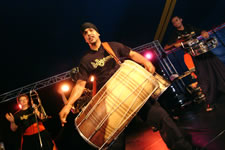 Participate
Click 'Sign Up' below to receive a regular e-mail update on your area.
The London Mela, Europe's largest free outdoor Asian festival, returns to Gunnersbury Park on Sunday 1 September, from 1pm-9pm.

Last year's Mela attracted more than 80,000 people, and this year's festival is set to be just as popular, with nine zones including The Main Stage, BBC Asian Music New Music, The Alternative Music Stage, The Classical Stage, as well as an outdoor arts, dance and family zone. There will also be food from around the world, markets and a funfair.

Featuring a huge variety of artists from around the world as well as many homegrown acts, the London Mela offers the best of south Asian culture.

Recently announced to perform on the main stage is Harshdeep Kaur, who has featured on many Bollywood and Hollywood soundtracks including Danny Boyle's film, '127 Hours'.

The Philharmonia Orchestra returns to the event this year to perform on the classical stage with Amaan and Ayaan Ali Khan, in a specially commissioned performance for the Mela.

Parking and access to the roads surrounding Gunnersbury Park will be limited from 7am-10pm on the day of the event. Parking along some of the roads will be open to residents only and other roads will be closed to both residents and non-residents. Signs explaining the parking and access limitations were set up along all affected roads earlier this week.

People living along the affected roads are reminded to affix the Mela parking stickers provided by Ealing Council to their car(s) by 7pm on Saturday, 31 August. To request more parking stickers, please call 020 8825 6640.

In order to minimise inconvenience to local people, organisers have made a few changes to this year's event. This includes locating the fairground away from residents in Lionel Road and limiting working hours on site, such as the use of machinery during the event set-up, to 8am-6pm (where possible). Disabled blue badge holders and residents showing proof of address will also be able to use the car parks within Gunnersbury Park for free at this year's event.

Councillor Julian Bell, leader of Ealing Council, said: "The London Mela is a fantastic and lively day out for the whole family. It provides a great opportunity for all people in the community to come together to discover the best of south Asian music, arts and culture – and all for free.

"Festival-goers are encouraged to travel to Gunnersbury Park by public transport, as onsite parking is very limited. We're doing everything possible to minimise disruption to residents, and hope that all local people come along and enjoy this year's event."

If you are a local resident and experience problems on the day or during the build or take down of the event, please call 020 8569 9831. Lines are open from 8am-6pm on Wednesday, 28 August to Monday, 2 September and from 8am-11pm on Sunday, 1 September (the day of the event).
Roads where access and parking will be open to residents only are Lionel Road, Sunderland Road, Durham Road, Olive Road, Rose Gardens, Cedar Grove, Beech Gardens, Ash Grove, Elderberry Grove, Knight's Avenue, Tudor Way, Baronsmeade, Lillian Avenue, Gunnersbury Gardens, Princes Avenue, The Ridgeway, Park Place, Gunnersbury Crescent, Knightsbridge Avenue, Manor Gardens, outside the International School of London on the A406 (North Circular).

-Roads where parking will be restricted for both residents and non-residents are both sides of Pope's Lane from the North Circular Road to South Ealing Road (where possible, some parking will be allowed along Pope's Lane); The first 30 yards from Pope's Lane on both sides along Beech Gardens, Ash Grove, Elderberry Road, Knight's Avenue and Baronsmede; Gunnersbury Drive; and, the north and south side of Gunnersbury Lane from North Circular Road to Bollo Road.

For full line-ups and more information about the event, please visit www.londonmela.org



August 20, 2013