An opportunity for you to judge & grill celebrities in pilot show
Related Links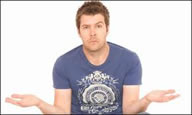 Fancy getting on the show?
Please contact Rebecca Dibley at:
Or on: 0208 222 4718

(Please note you must be over 18 years old to apply.)
Participate
Sign up to receive free newsletters from
www.ActonW3.com
www.ActonW3.com
www.EalingToday.co.uk

Is it just me? sees four celebrity guests join Rhod Gilbert in a feature-packed Friday night entertainment show celebrating the freakish things we think, the ridiculous things we do and the embarrassing things we think about doing!
Zeppotron are looking for a select few people to be part of our very own 'Is it just me?' audience judging panel and if you are a registered member of PutneySW15.com it could be you! As a member of this group you'll be bantering with the celebrities before interrogating them and voting on whether you agree with the nonsense they're spouting. On top of that you'll be asked to reveal your own bizarre thoughts and opinions so they can find out if it is in fact just you.
So if you're vivacious, lively, up for a bit of laugh and have a story or two up your sleeve then they need you!!
The pilot show is being recorded in March 2011 in Hammersmith so if you think you could help make this show a memorable one they'd love to hear from you.

February 22, 2011