Council to take legal action
Related Links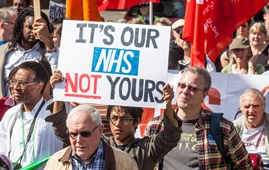 Participate
Comment on this story on the forum
Ealing Council's cabinet last night (Tuesday 23 April) agreed to apply for a judicial review to challenge the NHS's decision to close four casualty departments and downgrade other local hospital services.
The application for legal action is being taken by the council because it feels the plans are not in the best interests of local people. The concerns raised by the council include failure to take into account clinical evidence, insufficient public and patient engagement, inadequate public consultation and a failure to consider the impact that stopping services would have on Ealing residents.
The council's legal team is expected to lodge papers with the court in the next two weeks.
In addition to the legal action, the council has already referred the plans to the government and the secretary of state for health is expected to order an independent review.
Leader of the council, Councillor Julian Bell said: "We are facing a David versus Goliath struggle to protect our local hospitals but will use every option open to us, including going to court, to fight to keep these vital services for our residents.
"Although times are tough and the council is facing increasing pressure on its finances, it is right we stand up and fight to protect local hospital services. If this means taking this battle to the courts, so be it.
"The changes being pushed through are not only the largest ever attempted in the history of the NHS, they are also completely untested – with our residents playing the part of unwilling guinea pigs. People are rightly frightened, angry and frustrated that their views are being so recklessly ignored."
Meanwhile, residents are expected to take to the streets en masse on Saturday, 27 April to show their support for local hospitals including Ealing.
The march from Southall will meet at Southall Park at 11.30am, while the march from Acton will meet at Acton Park at 12.30pm. The rally will then begin at Ealing Common at 2pm.
All political parties on the council are against the proposals.
Find out more about the campaign here.
In addition to the marches, people can support Save Our Hospitals by following the campaign on Twitter #HelpSOH.
23rd April 2013