Major rally planned this Saturday
Related Links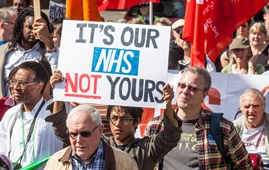 Participate
Comment on this story on the forum
Residents are expected to take to the streets en masse on Saturday, 27 April to show their support for local hospitals including Ealing.
The march is against plans to close four out of nine A&E departments in North West London. Meeting places will be from Southall Park and Acton Park and will converge at a rally at Ealing Common.
NHS NW London has decided to shut A&E services at Ealing, Central Middlesex, Charing Cross and Hammersmith hospitals, and stop other services currently provided including the maternity unit at Ealing Hospital. This would leave three London boroughs, with a total population the size of Leeds, without a major hospital.
Ealing Council has since referred the NHS decision to the Secretary of State for Health, Jeremy Hunt MP so he can order an investigation into the matter by an independent panel.
Council leader Julian Bell said: "Our fight is not over. We want to send a message to NHS bosses and the secretary of state that we will not stand for this disastrous decision. Our voice is still as loud as ever and we will not go away.
"Their plans are driven by finances and not by the best interests of the people. It is not too late to change their decision and work towards a sensible alternative that provides our residents with essential health care and saves our hospitals."
The march from Southall will meet at Southall Park at 11.30am, while the march from Acton will meet at Acton Park at 12.30pm. The rally will then begin at Ealing Common at 2pm.
All political parties on the council are against the proposals.
Find out more about the campaign here.
In addition to the marches, people can support Save Our Hospitals by following the campaign on Twitter #HelpSOH.
23rd April 2013