Ealing Half Marathon - the results
Related Links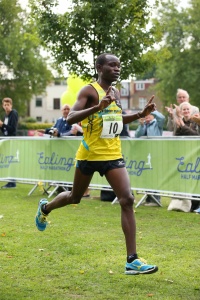 Matthew Kiprotich Kimutai (Run-Fast), 1:04:33 ( Sussex Sport Photography)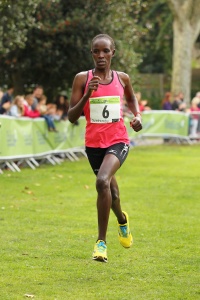 Gladys Ruto (Run-Fast), 1:15:28 ( Sussex Sport Photography)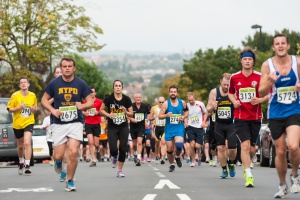 Ealing Half runners (Dan Tsantilis)
Everyone Got The Ealing Feeling - Images from EHM 2013
Participate
Comment on this story on the forum
The 2nd Ealing Half Marathon took place yesterday (Sunday 29th September) in warm, sunny weather conditions with 4,000 runners crossing the finish line and huge support throughout the route.
Bob Fletcher, Headteacher of North Ealing Primary School, started the race at 9.15 am, sending the runners on their way around the single lap course which took in Central Ealing, Montpelier, Pitshanger, West Ealing, St Stephens, Hanwell and West Ealing before finishing in front of cheering crowds in Lammas Park.
Matthew Kiprotich Kimutai from Run-Fast was a favourite contender for the winning title and after leading from the start he was the first runner to cross the finish line in an impressive 1:04:33 - a new course record. Colin Leak secured second place with a sprint line finish in a time of 1:07:58, beating Paul Martelletti from Victoria Park Harriers & Tower Hamlets AC into third place by one second.
It was a similar story in the women's field where Run-Fast's Gladys Ruto was dominating from the start, crossing the finish line in an excellent 1:15:28 and coming 12th overall. Katy Webster from London Heathside Runners AC was the runner-up in a time of 1:18:15 with Rebecca Moore from Worthing Harriers claiming 3rd place in 1:19:21.
A large number of representatives from the Ealing Eagles and other local running clubs took part in the race as well as first time half marathon runners, PB chasers and charity runners. Olympic Silver Medallist Sonia O'Sullivan from Thames Hare and Hounds was also spotted in the running crowds, finishing in 1:27:28. A special mention goes to 19 year old Delilah Brown from Hanwell who, despite suffering from cerebral palsy, managed to complete the 13.1 mile course.
The Ealing Mini Mile took place for the first time this year and saw just under 200 young runners aged 6 – 11 running 1 mile around Lammas Park with Charlotte Buckley from Thames Valley Harriers storming to overall victory in a time of 0:05:43. Oscar Jones from Clifton Lodge School was the fastest boy in 0:06:29.
The Corporate Challenge was incorporated into the main race, with corporate teams from Mercedes-Benz Brentford, National Grid, Kobalt, Ealing Council, Dunnhumby and Aston Rowe Estate Agents battling it out for the winning trophy.
RESULTS
Ealing Half Marathon, 29th September 2013:
Male:
1. Matthew Kiprotich Kimutai (Run-Fast), 1:04:33
2. Colin Leak, 1:07:58
3. Paul Martelletti (Victoria Park Harriers & Tower Hamlets AC), 1:07:59
Female:
1. Gladys Ruto (Run-Fast), 1:15:28
2. Katy Webster (London Heathside Runners AC), 1:18:15
3. Rebecca Moore (Worthing Harriers), 1:19:21.
For the full results please go to www.ealinghalfmarathon.com .
Race Director Kelvin Walker commented: "We have delivered an excellent and hugely successful event today, and I would like to express a big thank you to everyone who has been supporting the race and contributing to its success today, including the volunteers, marshals, our sponsors, Ealing Council and of course all the runners who took part.
"We are also grateful for the support of the thousands of spectators and supporters who were lining the streets to cheer on the runners, showering runners with the true #EalingFeeling and creating a fantastic, inspirational atmosphere.
"The Ealing Half Marathon is now a firm fixture in the national running calendar and we look forward to seeing everyone again in 2014."
The Ealing Half Marathon took place for the first time in the Olympic year and was introduced to bring a mass participation sporting event to the Borough that would be a legacy to the Games, which certainly seems to have been achieved.
Epilepsy Action was the official charity for the Ealing Half Marathon 2013 with other charity partners including Tearfund, Cape, Ealing Samaritans, Ealing Centre for Independent Living, Imperial College Healthcare Charity, Shooting Star Chase, The Gabrielle Gray Foundation, Raise the Roof Kenya and St Mungo's.
Sponsors of the Ealing Half Marathon 2013 included Up & Running, Volvic, TIMEX, Clif Bar, Xempo, Mercedes Benz Brentford, Smart Brentford, Move Clinics, Bodyline Fitness, The New Inn, The Park Club, Dunnhumby, Ealing Eagles and Ealing Council, with Ealing Gazette the official media partner and Ealing Today the official media supporter for the race.
Please go to www.ealinghalfmarathon.com for further info, results and photos, like the Facebook page www.facebook.com/ealinghalf and follow @EalingHalf on Twitter.
30th September 2013