Well it happened and I did it.
I'm now shell shocked and in recovery mode, so will write a bit more fully about the experience very soon - when I can function once more!
But, what a day. The music I was listening to (from U2) on the way to Lammas Park seemed to sum it all up. It was a truly beautiful day.
I'm no runner and just hoped I could get round the 13.1 mile circuit and - yay, I did - but just look and see how impressive the real runners did see results here.

Congratulations to all the winners - and all those who took part + a special mention and well done to Charlie Canniff the former editor in these here parts - a great run.
Many thanks to those who came out to support along the route - it really did help. Ealing you did us proud.
A big mention to Kelvin Walker and all the Ealing Eagles running group and organisers who made this inaugural Ealing Half Marathon a truly fantastic and beautiful day.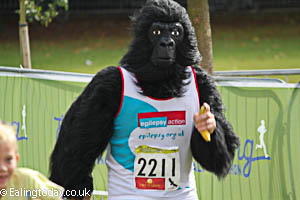 Who cares if I was beaten by a gorilla?!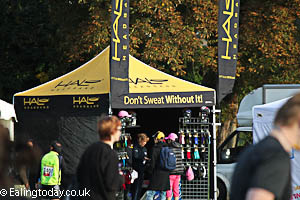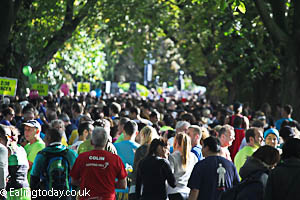 The runners funnel - a mass of bodies waiting to go!
So those of you who wanted to but couldn't or didn't - next one is only 12 months away - LOADS of time to get training.
If I can get round - anyone can.
Just do it!
Annemarie Flanagan
editor@ealingtoday.co.uk
30 September 2012