Can you manage for an hour without electricity?
Related Articles
Register for your local newsletter:

Comment on this story on the forum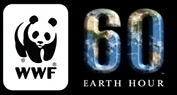 The countdown to WWF's Earth Hour has well and truly begun, with a record 120 countries and territories taking part in what is set to be the greatest climate change event ever. Over 1,700 cities and towns across the globe will switch off lights at 8.30pm on Saturday – 26 March 2011 – to call for action on climate change.
Earth Hour aims to get one billion people across the world to switch off their lights from 8.30pm to 9.30pm. By switching off your lights you will be showing you care about climate change.
Earth Hour began in Sydney in 2007, when 2.2 million homes and businesses switched off their lights for one hour. In 2008 the message had grown into a global sustainability movement, with 50 million people switching off their lights. Global landmarks such as the Golden Gate Bridge in San Francisco, Rome's Colosseum, the Sydney Opera House and the Coca Cola billboard in Times Square all stood in darkness.
All seven continents of the world are signed up to take part in this year's Earth Hour. The latest pledge of support comes from the research team at Davis Station – a remote scientific outpost in Antarctica where the effects of global warming are most evident.

New Zealand's Chatham Islands will be the first territory to start Earth Hour with the South Pacific Island of Samoa closing the sweep across the globe 24 hours later.

The world's great man-made marvels and natural wonders will plunge into darkness including the Eiffel Tower, Brandenburg Gate, Hiroshima Peace Memorial, Empire State Building, Table Mountain, Christ the Redeemer statue, Sydney Opera House and the world's tallest building, Burj Khalifa.

Countries and regions involved for the first time include the remote island nation of Madagascar, Nepal, Saudi Arabia, Mongolia, Cambodia, Czech Republic, Paraguay, Ecuador and the US Commonwealth of the Northern Marina Islands in the Pacific Ocean.

Earth Hour in the UK
In the UK, intense lobbying by MPs has resulted in Big Ben and the Houses of Parliament finally joining an impressive list of London landmarks switching off their lights for an hour this Saturday.

Other landmarks going dark in the capital include St Paul's Cathedral, Royal Albert Hall, Piccadilly Circus, BT Tower, Natural History Museum, and the London Eye, who will be dimming their lights for the hour.

Mayor of London, Boris Johnson, adds: "Nelson's Column and City Hall will be plunged into darkness during Earth Hour to herald London's support for saving energy to care for our planet."

Edinburgh Castle, Stormont in Belfast, Wales Millennium Stadium, Belfast City Hall and Big Wheel, Old Trafford, Merseyside Maritime Museum, Durham Cathedral, and HMS Victory are also switching off the lights, along with over 700 community groups, 1,500+ schools and 27 Universities.

Over 500 businesses have signed up to Earth Hour, with M&S, Coca Cola, and IKEA leading the way. London business and shopping district Canary Wharf, and the City's iconic Gherkin building are taking part in the big switch off, and visitors to IKEA stores and McDonald's restaurants up and down the country will see the famous signs go dark.

Around the country people are finding creative ways to get involved, whether it's simply switching off the lights, or taking part in a special activity or event.
March 3, 2011