Tickets in advance

Tickets
In advance: £9 (concessions £7, under 16s £2)
On the door: £10 (concessions £8, under 16s £2)
Buy tickets online via www.addison-singers.org.uk
Our online Box Office – www.WeGotTickets.com - will provide a booking reference code which you
should exchange at the venue for a ticket; proof of ID will be required.
Registered Charity No: 286808 There is a 10% booking fee payable.

www.addison-singers.org.uk


Participate
Sign up for a newsletter from
ChiswickW4.com, HammersmithToday.co.ukand PutneySW15.com
Summer Jazz Concert: Saturday 16 July 2011.
'Fiesta!'
An Evening of Contemporay Jazz
At 7.30pm in Twyford C of E High School, Acton W3 9PP.
With guest appearance by
Capital Chorus
An award-winning barbershop group www.capitalchorus.co.uk/.
Online tickets now on sale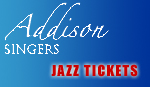 See the music programe on our Jazz Music page or see the Jazz concert page for further details

June 6, 2011