Council approve wheelie bins and fortnightly collections
Related Links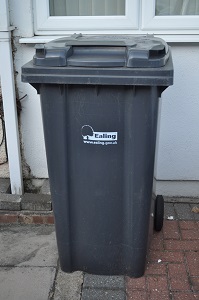 Southall residents have had one wheelie bin since 2008 and will get a second for recycling
Participate
Comment on this story on the forum
Ealing Council's cabinet has agreed to big changes in the way rubbish is collected.
From next year wheelie bins and fortnightly collections will be introduced. Food waste will continue to be collected weekly.
Properties on red routes will continue to use black sacks for rubbish and their usual clear sacks for recycling. Those in flats who have a bulky or paladin bin for communal recycling or refuse will have no change.
Residents in Southall who already have wheelie bins will receive an additional one for their recycling.
The council will assess properties which it feels are not suitable for a wheelie bin and provide the same service offered to homes on red routes. Residents will be able to request an individual visit if they believe they cannot create space.
There is a European-wide target to ensure half of household waste is recycled by 2020.
The Council say the new system will reduce the amount of rubbish on the streets caused by black sacks being torn open by foxes and vermin.
Councillor Bassam Mahfouz, cabinet member for transport, environment and leisure, said: "We currently spend an enormous £10million a year sending waste to landfill, but research shows that two thirds of the contents of black sacks could be recycled. Not only is that bad for the environment, but an enormous waste of money and the costs of sending waste to landfill are only expected to rise. I'm pleased we've agreed these plans to make recycling easier because we must make fundamental changes to the system if we are going to further increase recycling rates."
There has been much anger over the scheme and residents in Bedford Park, W4 think they should be regarded as a 'special case' because they are 'very concerned about the damage this would cause to the appearance of their homes and to the area.'
Despite much opposition and several petitions the plans were approved by the council's cabinet on Tuesday, 16 June and are expected to be introduced in late spring 2016.
18th June 2015